10 European regions team up to give young people the tools to succeed in business
Involving 10 European regions, the Boosting Innovative Entrepreneurial Ecosystem in Regions for Young Entrepreneurs (IEER) project has helped foster an enterprising spirit in young people around Europe and enabled them to acquire business skills. It implemented regional ecosystems for start-ups so that young Europeans can benefit from improved business services and entrepreneurship education.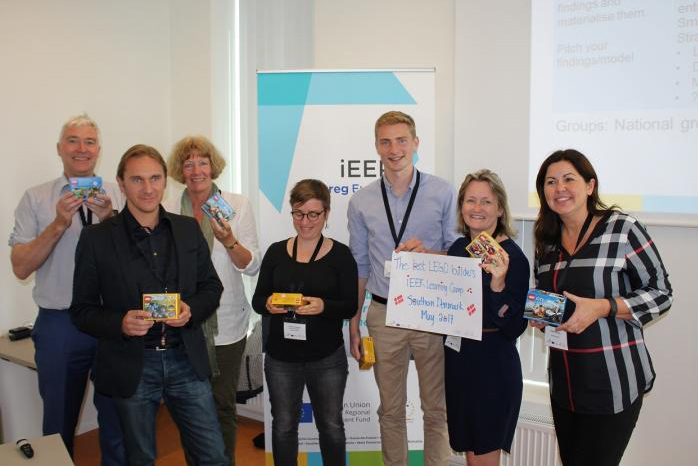 Participants at an IEER learning camp held in southern Denmark in May 2017. ©Boosting Innovative Entrepreneurial Ecosystem in Regions for Young Entrepreneurs
" Since 2016, IEER has ignited transformation in 10 European regions by supporting young people and entrepreneurship. By connecting European Structural Funds and SME-related policies in regions, it triggered a return on investment of 1 500 % on the EU funding it received. "
After exploring the 10 regions' business environments, IEER tapped into regional experts' knowledge to support sharing of experience and good practice between public, private and educational stakeholders through peer-learning visits, guided workshops and working groups.
Ten action plans were then drawn up to provide a learning platform for entrepreneurs, business development agencies, educational institutions and civil servants. In all, the plans comprise 50 actions, including entrepreneurship training, mindset-related courses in schools and start-up assistance.
Better entrepreneurship policies
With ever more young people moving to big cities, many regions are losing their brightest talents and are missing out on investment due to their lack of business support infrastructure. The resulting low levels of job creation are a concern for the young, who are at particularly high risk of unemployment.
At the same time, 40 % of young Europeans are interested in becoming self-employed. To help them start out on their own, and enhance their employability, IEER designed measures to improve the coverage, comprehensiveness and quality of regional entrepreneurship policies.
The project's learning process entailed organising 107 events, at which entrepreneurs and other interested groups could make their voices heard and expand their networks across Europe. Along with the action plans, the events led to the formulation of 20 good practices and a handbook to guide development of entrepreneurial ecosystems.
To assess the transferability of the model and bring in new ideas, IEER involved non-partner regions, especially less-developed ones, in its activities. Each participating region held public information events.
Big return on investment
As part of the process, the partners examined how European Structural Funds are deployed in the 10 regions. The understanding they gained allowed them to propose entrepreneurship support actions. These were subsequently initiated under nine Structural Fund operational programmes, triggering investment of EUR 40 million – a return of 1 500 % on IEER's initial EU funding.
Regional strategies in which knowledge derived from IEER has been applied successfully include Finland's Helsinki-Uusimaa regional programme, the innovation strategy for Western Pomerania in Poland and the strategic entrepreneurship plan for Valencia, Spain.
Aula Emprende, an IEER pilot action launched by Valencia, trained over 350 lecturers from 31 European universities in entrepreneurship skills in nine countries. The lecturers conveyed the skills to 1 100 students to promote an entrepreneurial culture in universities.
At EU level, IEER worked with the European Commission and Committee of the Regions on policies addressing start-ups, such as the Start-up and Scale-up Initiative. It provided input into the Committee of the Regions' opinion on the contribution of regions and cities to the EU policy framework on SMEs.
Total investment and EU funding
Total investment for the project "Boosting Innovative Entrepreneurial Ecosystem in Regions for Young Entrepreneurs" is EUR 2 294 882, with the EU's European Regional Development Fund contributing EUR 1 950 650 through the "Interreg Europe" Operational Programme for the 2014-2020 programming period. The investment falls under the priority "Competitiveness of small and medium-sized enterprises".
Draft date
31/08/2020
Related themes
Technical information
Fund
European Regional Development Fund
Programme
Interreg Europe
Thematic Objective
Competitiveness of Small and Medium-sized Enterprises (SMEs)
Programming period
2014-2020
Project duration
01/2016 - 03/2020
Total Investment
2 294 882 EUR
EU Investment
1 950 650 EUR
Contact
Managing Authority
Région Nord-Pas de Calais Conseil régional
151, Avenue du Président Hoover, F 59555 LILLE CEDEX, France
Beneficiary
Helsinki-Uusimaa Regional Council
Esterinportti 2 B
00240
, Helsinki
Suomi - Finland
Web