"BalkanRoad" - Helping the Balkan region's agribusinesses go 'green'
A project being implemented across five countries is giving farmers the tools and knowledge to become more eco-friendly. BalkanRoad helps agribusinesses to reduce their carbon, water and waste footprints. It is facilitating the production of Eco-labelled products in Greece, Cyprus, North Macedonia, Albania and Bulgaria.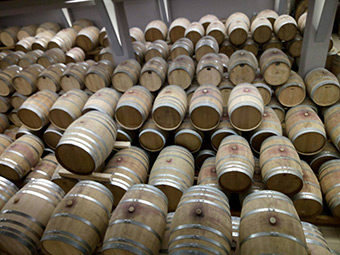 Wine barrels at a pilot agribusiness that forms part of the BalkanRoad project, in Greece ©Maria Doula
" BalkanRoad helps Balkan agribusinesses convert to environmentally friendly production by reducing their carbon, water and waste footprint. The project receives feedback from farmers, agribusinesses and policy makers and facilitates discussion between them by putting them around the same table, aiming to build a common Balkan protocol for the agribusiness sector that will boost local products in national and European markets. "
BalkanRoad seeks to protect the environment while modernising agricultural practices in a region which lags behind other parts of Europe in these respects. To achieve its goals, the project works in two areas. Firstly, it is developing strategies and technologies to conserve natural resources – soil, water and air – and reduce greenhouse gas emissions. These measures are aimed at reducing waste while increasing recycling and reuse on Balkan farms. Secondly, common protocols for the production of Eco-labelled products are being developed, to ensure sustainable practices throughout the agricultural production chain – from field to market. These protocols are in line with EU legislation and emission reduction targets.
The project has created a fully-automated, robust system – the ROAD Tool – for recording, calculating and assessing the environmental footprint of these marketable products at every production and processing step. The tool is available as a web-based application and was applied and tested in three agri-pilot schemes in Greece, Bulgaria and North Macedonia. BalkanRoad has implemented five new environmentally friendly technologies relating to water and waste management and four others in the field of climate change prevention.
Roadmap for change
Development of a 'Roadmap for Sustainable Balkan Farms Systems' has been a central focus of work, involving a range of experts from government, agriculture, education and scientific research. The roadmap integrates agricultural, environmental and human goals with the aim of improving incentives to protect resources and reduce waste.
A multidisciplinary group of 15 stakeholders from all five participating countries operating in the agricultural sector were involved in the project. As well as providing the project consortium with data to develop the roadmap, they have identified policies and governmental instruments for its adoption through national policies as well as its implementation at local and regional level.
To ensure sustainability of the project's outcomes, a broader stakeholder network has been established, the 'ROAD for Balkan Agriculture'. The network is ready to follow up on the project's outcomes, express its opinion during transnational dialogues and diffuse data and information to the agricultural, market and societal networks of which it is a part.
Total investment and EU funding
Total investment for the project "BalkanRoad: Towards farms with zero carbon-, waste- and water-footprint. Roadmap for sustainable management strategies for Balkan agricultural sector" is EUR 1 284 723 with the EU's European Regional Development Fund contributing EUR 1 092 014 through the "Interreg V-B Balkan-Mediterranean" Operational Programme for the 2014-2020 programming period. The investment falls under the priority "Environment and resource efficiency".
Draft date
13/03/2019
Related themes
Contact
Managing Authority
Managing Authority of European Territorial Cooperation Programmes of the Hellenic Ministry of Economy, Infrastructure, Shipping & Tourism
Leoforos Georgikis Scholis 65, GR-57001, Thessaloniki, Greece
Beneficiary
Benaki Phytopathological Institute (lead partner)
8 Stefanou Delta Street,
14561
, Athens
Ελλάδα - Ellada
Web