Vocational students on German-Dutch border explore neighbouring job markets
An EU-funded project has made it possible for students in secondary vocational schools in Germany and the Netherlands to explore the cross-border job market through cultural and language courses, and exchange programmes. Internships enabled students to become acquainted with what life and work is like next door.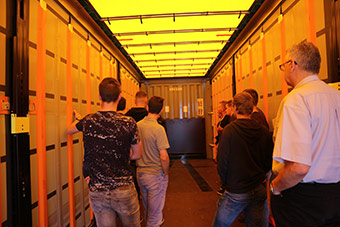 Students during a Euregio-Xperience activity. ©Marleen Verberkt
" This project provides great cross-border opportunities for trainees at secondary vocational education schools. "
Hoping to inspire young people to explore the labour market across the border, the project aimed to reduce the barrier effect of the Dutch-German border on life, work, entrepreneurship and study for both citizens and institutions. It allowed students to gain valuable experience in either Germany or the Netherlands, enabling them to broaden their horizons. 
The project offered intercultural workshops and language courses. It involved presentations from guest lecturers – company leaders from both sides of the border. Trainees were given the opportunity to visit businesses and do internships. 
Opportunity for students
In addition to language classes, cultural training concentrated on the cultural differences between labour markets. Job application training courses focused on the differences between applying for work in both countries – for example, how to act during an interview with a German company. 
Each course consisted of at least 10 90-minute sessions. Workshops were organised at schools and tailored to the content of the lessons offered. 
The project organised internship mediation sessions and company visits, and actively coordinated between schools, students and companies to make cross-border internships possible. The participating students were offered a travel allowance, with commuting by public transport fully reimbursed and travel by car partially refunded if no public transport was available.
Company involvement
Companies involved in the project were keen to take on trainees from neighbouring countries. Company visits were organised throughout the year so students could take tours and learn about job openings. The project oversaw that students were matched up with openings that best fit their skills. These exchanges offered companies a good way to find potential future employees.
The project also worked with schools and companies to recruit guest lecturers from the business world, with such interactive sessions leading to a better transfer of knowledge. 
Some 100 small- to medium-sized enterprises received support from the project and another 100 obtained non-financial aid. 
A total of 500 participants were involved in the education and language skills initiative. 
Videos
Total investment and EU funding
Total investment for the project "euregio-Xperience" is EUR 663 520, with the EU's European Regional Development Fund contributing EUR 331 760 through the "INTERREG V-A Germany - The Netherlands" Operational Programme for the 2014-2020 programming period. The investment falls under the priority "Better public administration".
Draft date
14/08/2019
Related themes
Contact
Managing Authority
Ministerium für Wirtschaft, Energie, Industrie, Mittelstand und Handwerk des Landes Nordrhein-Westfalen, Referat IVA4 Europäische Territoriale Zusammenarbeit
40190 Düsseldorf
Intermediate body
Joint INTERREG-Secretariat
Technisches Sekretariat c/o Euregio Rhein-Waal
Emmericher Straße 24
47533
, Kleve
Deutschland
Web
Beneficiary
Euregio Rhein-Maas-Nord