New energy-efficient electric trolleybuses developed in Netherlands
A project based in the Netherlands' Gelderland region is developing and testing two, 18 m-long trolleybuses that exploit some of the latest energy-efficiency technologies. Their batteries are charged in motion during everyday service, doing away with the need for long charging times at bus depots. If successful, the E-Bus 2020 project could pave the way for a fleet of trolleybuses to run on existing lines and replace traditional diesel or gas-powered buses.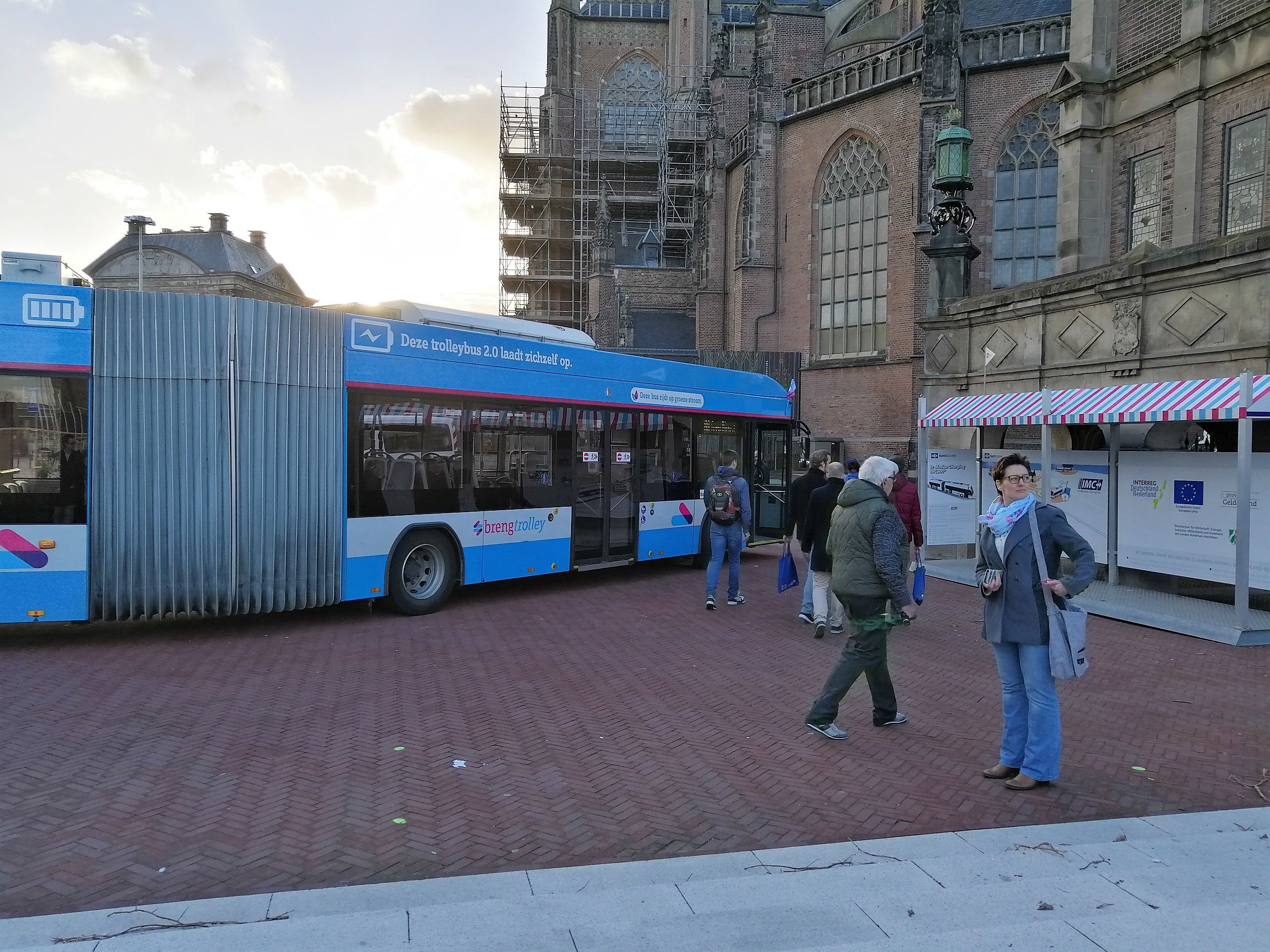 One of the trolleybuses that uses batteries that are charged in motion, being tested in the Netherlands' Gelderland region. ©E-Bus2020
" The In Motion Charging technology from Kiepe Electric - here IMC 500 - shows its full strength in the EU 2020 project. "
The project trolleybuses serve as test laboratories for the green technologies. All recorded data is being analysed by the HAN University in Arnhem and will be used in further developments. The local authorities of Arnhem and Renkum act as the launching customers for the new technologies.
Clean and green travel
In addition to being energy efficient, the emission-free trolleybuses are equipped with the latest heating and air conditioning systems for passenger comfort. Tests indicate that the trolleybuses have a range of 10 km in battery mode without using the overhead contact lines.
The project team demonstrated the effectiveness of the battery in motion charging (IMC) technology. The results reveal there is genuine potential to convert the entire local fleet of trolleybuses to fully electric 18 metre vehicles. The IMC technology is also suitable for 24 m-long trolleybuses.
New charging stations
To accommodate the project, the catenary network's overhead power lines were extended and now act as a smart grid. As well as powering the trolley buses, the lines are used to deliver electricity to charging stations equipped with batteries for e-cars. The car batteries store brake or solar energy, which means the available energy can be used more efficiently. A payment system for e-car charging stations has also been devised through the project.
As well as helping to meet EU targets for emission reductions, E-Bus 2020 has great commercial potential in the long term. According to the project team, there are more than 300 trolleybus networks across the world, all of which are potential customers for the project's technologies.
Studies suggest the trolleybus battery pack is the only possible application of electro-mobility in public bus transport in medium and large cities for vehicles up to 18 m in length.
Total investment and EU funding
Total investment for the project "EU-Bus 2020: In Motion Charging" is EUR 8 656 818, with the EU's European Regional Development Fund contributing EUR 4 328 409 through the "Interreg V-A Germany-The Netherlands" Operational Programme for the 2014-2020 programming period. The investment falls under the priority "Low-carbon economy".
Draft date
17/06/2020
Related themes
Contact
Managing Authority
Ministerium für Wirtschaft, Energie, Industrie, Mittelstand und Handwerk des Landes Nordrhein-Westfalen, Referat IVA4 Europäische Territoriale Zusammenarbeit
40190 Düsseldorf
Beneficiary
Kiepe Electric GmbH
Kiepe-Platz 1
40599
, Düsseldorf
Deutschland
Web