Organisations across Danube region cooperate to help Roma access the jobs market
The RARE (Roma as Human Resource) project brought together 21 partners from eight Danube region countries in which the exclusion of the Roma population represents a key problem and high policy priority. The project aimed at improving Roma social and economic integration by developing a multi-stakeholder strategic partnership. The project strengthened the capacities of, and cooperation among, actors that have a stake in the labour market participation of Roma people.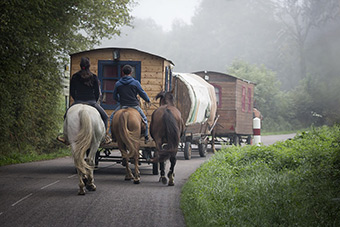 The RARE project is helping the social and economic integration of the Roma people across the Danube region ©CC0 Creative Commons
" One of the most important activities in the framework of RARE project was the international campaign on the Labour Day. We have shown that Roma community is a vital, active and integrated part of the European Society. We introduced Roma roll-models, exceptional Roma people from all around Europe – everyday heroes whom we all can be proud of. The past of Roma and non-Roma people intertwine more than the majority of people would believe. "
There are an estimated 5.2 million Roma people living in the Danube region. Many of them still face intolerance and discrimination, which makes it difficult for them to access education, public services and the jobs market. RARE sought to change this situation by improving some of the support structures available to the Roma.
Defining key challenges
The project worked with employers, private companies and state and civil organisations to explore the challenges institutions and public services face in trying to get Roma people into work. Tasks included mapping procedural and institutional deficiencies in relevant organisations. National-level flowcharts and lists of institutions were created and analysed in each country to reveal the possible avenues of cooperation and interaction.
The RARE team selected and visited a number of existing good practices that have a track record in combating Roma exclusion and improving their job projects. Stakeholders then established groups of actors relevant in their locality who worked to together on initiatives for labour market activation of Roma people, including the development of RARE pilot actions.
Delivering practical support
Pilot actions have been established across the Danube region. For example, in Romania 30 Roma people were able to access reading and writing courses along with individual and group counselling sessions. Modular training courses in five trades are being developed, which will allow participants to obtain qualifications recognised across the EU.
In the Hungarian city of Pécs, 15 unemployed Roma participated in training and work programmes dedicated to upholstery, carpentry and masonry. In Serbia, on-the-job training is being provided to 15 unemployed Roma people, and a pilot project in the Czech Republic has focused on developing entrepreneurship training.
Meanwhile, in Slovakia and Bulgaria the focus has been on creating a more inclusive attitude among staff working in local labour offices, municipalities and other public institutions that help Roma communities and job-seekers. Other pilots are set to come on stream in the future.
Also through the project, Roma role models presented stories about their working lives at the International Labour Day in 2018.
Total investment and EU funding 
Total investment for the project "RARE" is EUR 2 039 082, with the EU's European Regional Development Fund contributing EUR 1 436 606 and the Instrument for Pre-Accession Assistance EUR 296 612 through the "Danube Interreg" Programme for the 2014-2020 programming period. The investment falls under the priority "Well-governed Danube region".
Draft date
24/06/2019
Related themes
Technical information
Fund
European Regional Development Fund
Programme
Interreg TN - Danube
Thematic Objective
Promoting social inclusion & combating poverty
Programming period
2014-2020
Project duration
01/2017 - 08/2019
Total Investment
2 039 082 EUR
EU Investment
1 733 219 EUR
Contact
Managing Authority
Ministry of Finance Hungary, Danube Transnational Programme Managing Authority and Joint Secretariat
Budapest, József nádor tér 2-4.
Beneficiary
Hungarian Charity Service of the Order of Malta
Szarvas Gábor út 58
1125
, Budapest
Magyarország
Web