Energy Cells: Transforming cross-border renewable-power supply in the Greater Region
Researchers in four European countries have developed and tested the concept of a regional energy cell able to integrate large shares of renewable energy into power systems. Each cell is a group of a large number of solar and wind power production plants, from small cooperatives to larger plants, and energy storage facilities such as batteries, heat grids or power-to-gas plants. Four energy cells balance electricity production and consumption by using storage capacities within the cells and by exchanging excess power with the other cells. An energy control centre manages the overall balance.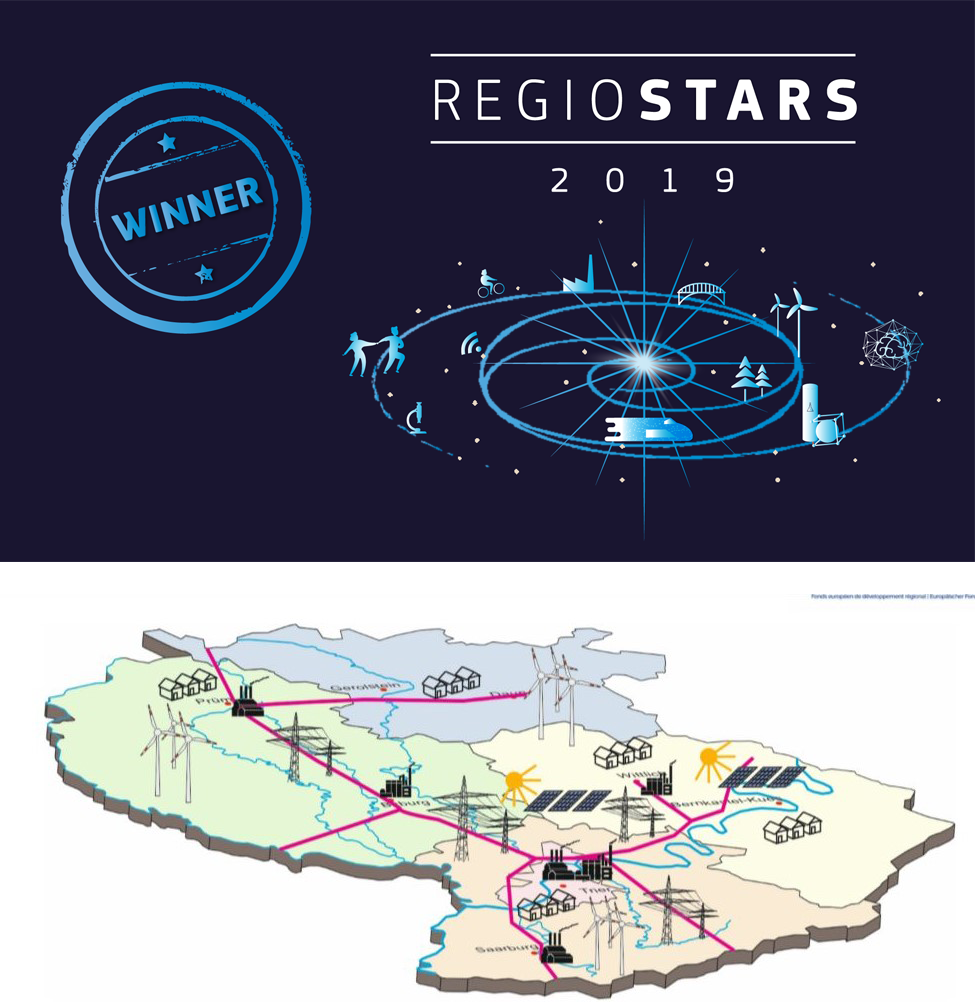 A map of the 'energy cell' in Trier, Germany, showing the distribution of power production plants. ©Energy Cells GR
" The Energy Cells concept can enable the EU to meet its objectives to maximise the share of renewable energies, to put the consumer at the centre of the energy transition as a game changer and to promote stronger cross-border trade. "
Energy Cells GR has developed a technical design for its large-scale energy-sharing and storage management system and for an energy cell in each of the four participating countries. Luxembourg, the Saarland and Rhineland-Palatinate regions of Germany, Lorraine in France and Wallonia in Belgium are participating in the project.
Simulations based on real-life energy consumption data from consumers and production data from local wind and solar power plants are helping to fine-tune these designs. The research is leading to a real-world demonstration of the system at the end of the project, to offer a practical solution that helps regions to cooperate on sustainable energy networks that meet consumer needs.
Living lab
At this stage the Energy Cells GR is a research and demonstration 'living lab'. Its eight operational partners and 11 strategic partners include regional authorities, energy companies, solar and wind power producers and research institutes. Around 70 household and business consumers have been involved, providing energy consumption data from smart meters installed by the project.
The project's long-term aim is a power system that balances highly variable renewable energy supply and consumer demand cheaply and reliably. Such a system is essential if more consumers are to rely on renewable energy, reducing carbon emissions to protect the climate.
As a foundation for this goal, the project has created four 'energy cells' in the Greater Region — one each in Metz in Lorraine, in Wallonia in Belgium, in Remich in Luxemburg and in Trier in Rhineland-Palatinate.
Each cell is a group of a large number of solar and wind power production plants, from small cooperatives to larger plants, and energy storage facilities such as batteries, heat grids or power-to-gas plants. Excess energy produced on sunny or windy days is saved in the cell, so that reserves are available for consumers when demand exceeds production. If a single cell runs out of storage or energy, it can access other energy cells in the system so that consumers are never without electricity.
A central computer-operated control system in Trier uses predictions of energy demand and production to react to energy use and bring the cell into balance. To manage demand and production, the system design includes real-time information on the current situation in the energy system.
From simulation to reality
Currently, these energy movements are being simulated on a computer. Once the system development is final, the results will be available on the project homepage for energy companies and other researchers. The results can inform policy and commercial decisions about expanding electricity grids to better accommodate renewables.
To demonstrate the system's potential, a trial run will complete the project. Should energy companies then decide to commercialise the Energy Cells system in the region, connections are already in place to embed the system in a real power grid.
Beneficiaries
'We already use 100 % renewable energy from our local supplier and our own photovoltaic panels. We took part in the Energy Cells data collection to show the potential capacity of the system and help other people to replace polluting energy. We want other homes and small businesses to one day have the same access to renewables as us.'

Olivier Maréchal, owner, L'Imprimerie de Waimes
'Courant d'Air is directly involved in developing the Covenant of Mayors' plan to strongly expand energy production from wind and sun by 2030. It is important to investigate the best possible way to integrate these two fluctuating energies in our region, and Energy Cells GR has helped us to build up a concrete picture of a possible solution.'

Achim Langer, administrator, Courant d'Air wind energy cooperative
Total investment and EU funding
Total investment for the project "Energy Cells – Regional Energy Supply of the Greater Region" is EUR 1 504 779, with the EU's European Regional Development Fund contributing EUR 902 867 through the "Interreg V-A — France-Belgium-Germany-Luxembourg (Grande Région/Großregion)" Operational Programme for the 2007-2013 programming period. The investment falls under the priority "Environment and resource efficiency".
Draft date
27/09/2019
Related themes
Contact
Managing Authority
GECT - Autorité de gestion Programme INTERREG V Grande Région
4, place de l'Europe, L-1499 Luxembourg
Beneficiary
IZES gGmbH
Altenkesseler Str. 15
66115
, Saarbrücken
Deutschland
Web