TIP: promoting innovation in Lithuania since 2015
The EU-funded TIP project has encouraged Lithuanian companies and start-ups to develop and incorporate innovative activities and services into their businesses. Through its promotional activities, the project boosted Lithuania's status as a R&D and innovation technology partner in EU projects.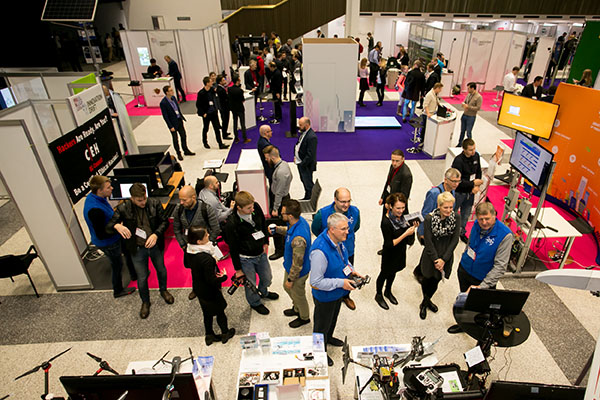 The fourth Innovation Drift forum attracted the world's leading innovators to Vilnius from 13-14 June 2019. ©Agency for Science, Innovation and Technology (2019)
" The achievements of this project have created value for Lithuanian businesses and the country's economy and society. Technology and innovation promotion activities helped companies to understand the value and concept of innovations, to engage more in innovation activities or even start a new business. The project's international conferences have made Lithuanian innovators internationally visible and opened the gate for future cooperation. "
Over four years, the Technology and Innovation Promotion (TIP) project carried out promotional activities on the benefits of innovation, not just for businesses, but also for society and the country as a whole. Over 40 promotional events were held throughout Lithuania, attracting both national and international businesses and stakeholders from the academic and public sector.
Conferences and events were organised – both in Lithuania and abroad – and covered by media outlets, including regional, national and international newspapers, television channels and other print publications. All with the goal of promoting Lithuania as both a technology user and creator.
Bringing international interest to Vilnius
One of the project's outcomes were two editions of Innovation Drift, an international conference and exhibition hosted in Vilnius in 2017 and 2019. Both editions featured speakers from internationally acclaimed R&D and innovation companies such as Nasa, Tesla, SpaceX, Google, IBM and the European Space Agency. Each event featured 30 exhibition stands, where companies introduced their products and services.
Another important project milestone was the launch of Life Sciences Baltics, organised by one of the project's partners, Enterprise Lithuania. The conference took place twice, in 2016 and 2018. Both events attracted government delegations from countries such as Japan, Israel, the UK and China.
The conferences and exhibitions attracted over 11 000 visitors and participants to the Lithuanian capital. A substantial amount of print and digital publications on the topic of innovation were produced and disseminated countrywide. For example, the publication A guide to Lithuanian Innovations went through three editions, with a total of 8 000 copies printed in Lithuanian and 1 000 in English.
Changing the industry's view on innovation
The project has helped change the belief that innovation is expensive, risky and difficult to create or adapt to. Many Lithuanian companies that innovate do not necessarily promote themselves publicly. TIP's activities made many innovation success stories visible nationally, giving other companies a better idea of the benefits and the practical side of innovation.
In doing so, the project narrowed the gap between high-tech R&D companies and traditional industry companies by making innovation more accessible in general.
Together, these promotional efforts helped put the need for innovation into the national and international spotlight. With the project's help, over 40 start-up companies were supported in developing ideas, testing prototypes and looking for new business models, investors and partners.
Total investment and EU funding
Total investment for the project "Promotion of Technology and Innovation (TIP)" is EUR 2 952 167, with the EU's European Regional Development Fund contributing EUR 2 952 167 through the "EU Structural Funds Investments" Operational Programme for the 2014-2020 programming period. The investment falls under the priority "Jobs, growth and investment".
Draft date
05/08/2020
Related themes
Contact
Managing Authority
Finansų ministerija
Lukiškių g. 2, 01512 Vilnius
Beneficiary
Agency for Science, Innovation and Technology
A. Goštauto str. 12-21
01108
, Vilnius
Lietuva
Web