MPA-ADAPT: Preparing the Mediterranean region for the impacts of climate change
The EU-funded MPA-ADAPT project is helping Marine Protected Areas (MPAs) in the Mediterranean Sea develop ways to enhance the resilience of biodiversity, safeguard ecosystems and buffer coastal communities against the effects of climate change. Although still a work in progress, the project has already successfully raised awareness about the importance of effective MPA management in preparing the region. Specifically, by creating understanding of the risks of climate change to biodiversity and coastal communities, the project has helped MPAs improve their planning and responsiveness.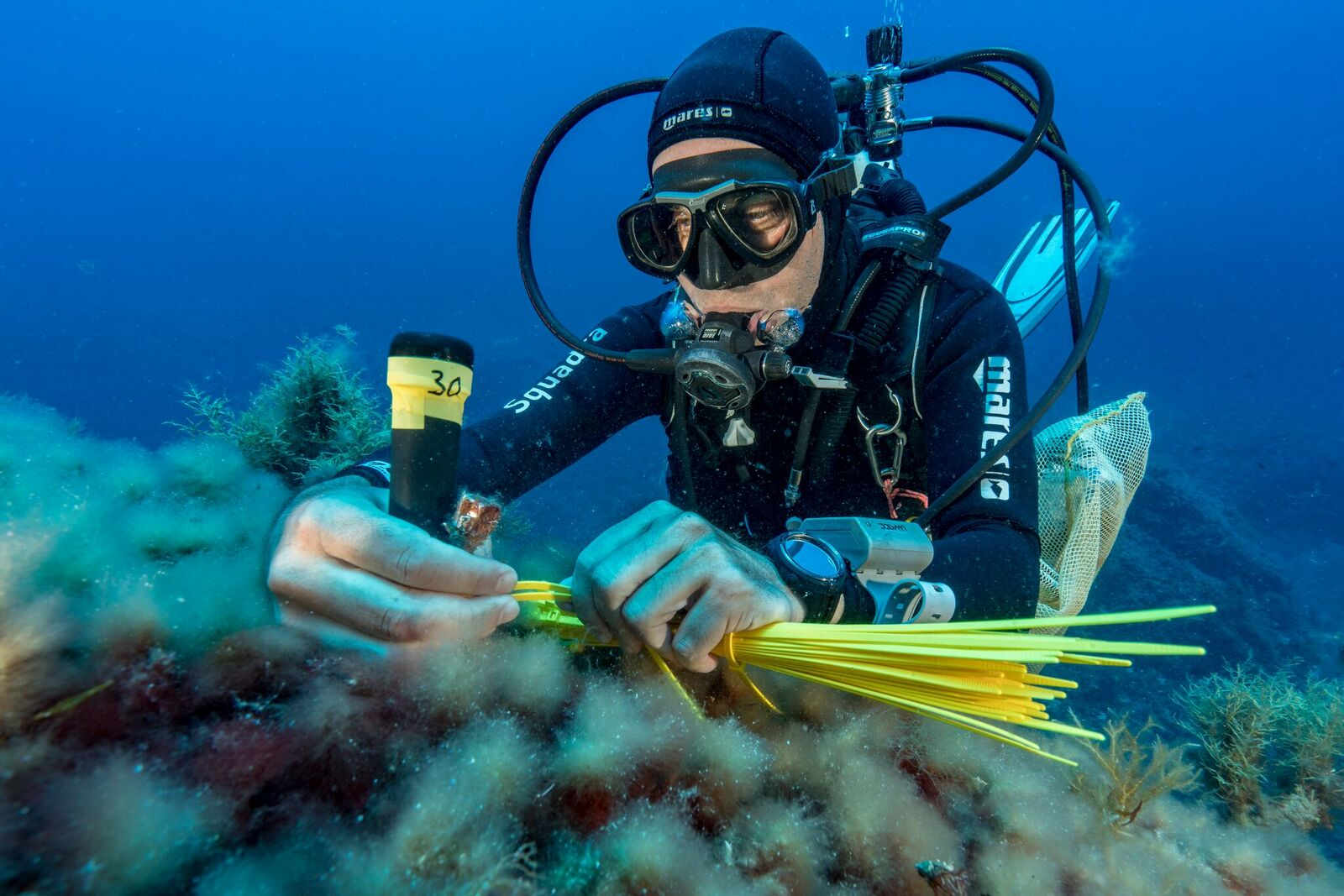 Monitoring activities at Scandola MPA, Corsica ©Alexis Rosenfeld
" "For the first time in the Mediterranean, five Marine Protected Areas are developing their own local adaptation action plans to address the challenges of climate change. This is the result of the collaboration among local stakeholders, scientists and MPA managers." "
The Mediterranean is one of the most vulnerable regions to global warming – which is already all-too visible. For example, increases in water temperature cause changes in salinity and circulation, the spread of non-native species, irregular migration and reproduction patterns, mass species mortalities, more frequent weather events and increases in sea levels. These changes affect the surrounding coastal communities, many of which depend on the Mediterranean for tourism and fishing. 
Navigating these challenges requires special adaptation strategies. Here, MPA-ADAPT is working with authorities from MPAs to help both people living in coastal areas and the marine environment adapt to climate change. 
The front lines of climate change mitigation 
Although MPAs come in many forms, from wildlife refuges to research facilities, they all restrict human activity for conservation purposes. They play an important role in climate change mitigation and adaption. However, many MPA management plans lack specific measures for addressing climate change. This is further hampered by a lack of information, capacity and funding.
The MPA-ADAPT project is tackling these challenges by integrating climate change adaptation action plans into existing management frameworks. These plans are being tested at five MPAs in three Mediterranean countries. 
Managers at each of these pilot sites are given extensive training and one-on-one consultations on adaptive management standards for addressing climate-related issues. The project organised three workshops covering such topics as adaptive management, identifying vulnerabilities, and implementing protocols for monitoring marine communities.
To ensure coastal communities benefit from the project, local administrations, fishermen and other key actors have been invited to take part in the project. For example, capacity building events for recreational divers were held at the five MPAs, where participants learned how to observe fish species and record climate-related effects.
Once the pilot phase is complete, these managers and citizens will train other MPA managers and local stakeholders, with the net result being a Mediterranean-wide capacity for dealing with climate change. 
Videos
Total investment and EU funding
Total investment for the project "MPA-ADAPT – Guiding Mediterranean MPAs through the climate change era: Building resilience and adaptation" is EUR 1 904 257, with the EU's European Regional Development Fund contributing EUR 1 618 580 through the "Interreg V-B Mediterranean" Operational Programme for the 2014-2020 programming period. The investment falls under the priority "Natural and cultural resources".
Draft date
28/05/2019
Related themes
Technical information
Fund
European Regional Development Fund
Operational programme
Interreg TN - Mediterranean
Thematic Objective
Climate change adaptation & risk prevention and management
Programming period
2014-2020
Project duration
01/2016 - 04/2019
Total Investment
1 904 257 EUR
EU Investment
1 618 580 EUR
Contact
Managing Authority
Région Provence-Alpes-Côte-d'Azur (France)
27, Place Jules Guesde 13481 Marseille Cedex 20 - France
Beneficiary
Institute of Marine Sciences CSIC (Lead Partner)
Passeig Marítim de la Barceloneta 37-49
08003
, Barcelona
España
Web