Struggle for Addict on Drugs (SAD) – Rehab programme helps addicts in Slovakia, Hungary
A cooperation project involving the Nádej – Reménység (Hope) non-profit organisation in Slovakia and Megálló Csoport Alapítvány (Stop Group Foundation) in Hungary has helped people suffering from addiction to reintegrate into society. Rather than focusing solely on healthcare, the Struggle of Addicts on Drugs (SAD) project used a range of methods to help addicts with personal development, to enable them to start a new life.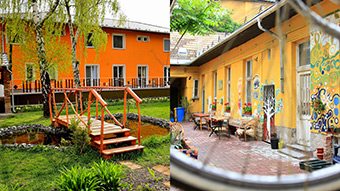 Headquarters of SAD project partners Nádej – Reménység and Megálló Csoport Alapítvány ©Nádej – Reménység, n. o.
" I think the main message of our project is that together everything is possible. The implementation and the financing was hard, but we constantly had to focus on our goal and our mission. We established valuable relationships with experts, schools, civil society organisations, recovering addicts and their families, and we were able to share and acquire useful know-how. "
Under SAD, a 367 m² boiler house in the Slovak village of Veľké Kosihy was converted into a multipurpose centre for sport, leisure and addiction prevention and rehabilitation events. Local residents, students and addicts made it available for use.
The project ran English, Hungarian and Slovak language lessons, courses on cookery, agricultural work, conflict management, self-awareness, and legal and business issues. In all, 2 232 people took part in 30 cross-border events, of whom 1 062 were women and 93 were from marginalised groups, including the Roma.
Long experience in tackling addiction
Although working in very different environments – Hope in the rural areas around Veľké Kosihy and Stop Group Foundation in Budapest – the two partners have the same mission: the social reintegration of people struggling with addiction. Both have been active in the field for more than 20 years and have much experience to share.
SAD was founded on the premise that, following medical treatment, addicts need to continue their recovery and work on their long-term personal development within a supportive community. By strengthening cooperation in this area, the project created essential infrastructure for that purpose and helped reduce the workload of professionals and volunteers.
Study visits, workshops and lectures
Work under SAD began with the organisation of five-day study visits for experts to the partners' facilities, during which participants exchanged good practices. Two-day visits were organised for people addicted to alcohol, drugs and gambling to let them take part in therapeutic sessions with their families.
A total of 58 professional events involving 193 organisations were held under the project. They included an addiction prevention conference in Budapest and press conferences and workshops in Budapest and Veľké Kosihy. Mental health experts, social workers, psychologists, pedagogues, theatre therapists and recovering addicts attended the workshops.
Round table discussions were held with experts and representatives of institutions working in addiction prevention and treatment. A series of lectures on drug addiction were given for older primary school pupils and at secondary schools and juvenile detention facilities. During the lectures, experts spoke about the threat of addiction and rehabilitated addicts recounted their experiences.
Equipment purchased for use in rehabilitation activities included musical instruments, safety equipment for work, office and educational materials, electronic devices, books, sports equipment and a small tractor. A film presenting the methods SAD used and an addiction prevention brochure were produced.
Total investment and EU funding
Total investment for the project "SAD – Struggle of addicts on drugs" is EUR 265 037, with the EU's European Regional Development Fund contributing EUR 225 281 through the "Interreg V-A - Slovakia-Hungary" Operational Programme for the 2014-2020 programming period. The investment falls under the priority "Enhancing cross-border cooperation of public authorities and people living in the border area".
Related themes
Contact
Managing Authority
Ministry of Foreign Affairs and Trade of Hungary
Bem rakpart 47, 1027 Budapest, Hungary
Beneficiary
Nádej – Reménység, n. o.
Hlavná 196
946 21
, Veľké Kosihy
Slovensko
Web