Boost for water tourism on Hungary's Upper Tisza river
Water-based tourism on the upper section of the Tisza river, in Hungary's North Great Plain region, has received a boost with the renewal of a network of 14 stops for canoes and kayaks. The stops are between the village of Tiszabecs, in Szabolcs-Szatmár-Bereg county near the Ukrainian border, and the town of Tiszacsege, in Hajdú-Bihar county.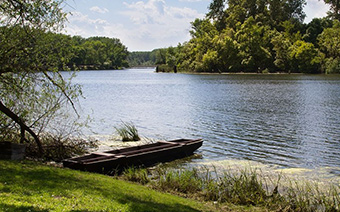 A series of 14 stops for canoeists and kayakers has been developed and renewed on Hungary's Tisza river. ©Creative Commons
" The federation's experts have worked hard to create a network, a water tourism system, in which the new water tour points will provide quality conditions for canoe campers. The 14 stops on the Upper Tisza will be waiting for visitors and we hope that the region will soon shine in its old light, and that, with the help of local communities, we will be able to provide a model that everyone can follow. "
Along with Tiszabecs and Tiszacsege, the other 12 stops within the network are at Tivadar, Vásárosnamény, Tiszamogyorós, Tuzsér, Dombrád, Ibrány, Szabolcs, Tokaj, Tokaj-Rakamaz, Tiszalök, Tiszadada and Tiszaújváros.
Work at the stops entailed infrastructure upgrades such as construction or renovation of buildings and installation of floating jetties for mooring vessels. New equipment was purchased, including kayaks and canoes, trailers for transporting them, paddles and a motorboat.
Promoting active tourism
The network forms part of a wider water tourism initiative under which similar facilities have been developed on lakes and rivers across Hungary. To promote them and help canoeists and kayakers plan their journeys, a website (viziturapont.hu) is under construction.
This initiative is an element of a broader programme called Bejárható Magyarország (Travelling Hungary), the objective of which is to enable tourists to explore Hungary through active leisure pursuits. It covers five modes of transport – hiking, cycling, horse riding, sailing and water tourism – and works to strengthen connections between them.
In line with the goals of Travelling Hungary, the project on the Upper Tisza was aimed at encouraging people of all ages to get involved in water-based leisure activities and to discover the region's waterways and other natural and cultural resources. It is expected to increase visitor numbers in the area by around 10 000 a year and generate revenue of HUF 140 000 000 (about EUR 418 000) over five years.
Developments at several sites
Specific features of the project included the reconstruction of the stop at the Dióliget campsite in Tiszabecs, where the men's and women's shower blocks and toilets were refurbished and a modern, 22.5 m² kitchen with a washing machine, electric stove and freezer was installed. In addition, heating panels were fitted in the main building and an access ramp was put in place for wheelchair users.
At Tokaj, the stopping point was equipped with washing and boat storage facilities, a communal space and a kayak and canoe rental service.
Prior to the implementation of the project, Tiszaújváros lacked a suitable spot for accommodating water tourists, so a site with a two-storey building was acquired. The interior and exterior of the building were renovated along with the male and female washing areas and the communal space. The former beach has been transformed into a centre for recreational water sports.
Long abandoned by water tourists due to its poor condition, the stop at Vásárosnamény has been reinvigorated. The lower floor of its renovated main building now has a storage room for boats and toilets. On the upper level are a dining room, a heated kitchen, a first aid area and additional storage space. A building for staff with two offices and a kitchenette was refurbished.
As well as welcoming tourists, the Vásárosnamény site is aimed at raising awareness of the importance of physical activity among schoolchildren and young people and training local sportsmen and women.
Total investment and EU funding
Total investment for the project "Complex development of water tourism on the Upper Tisza" is EUR 1 284 424, with the EU's European Regional Development Fund contributing EUR 1 091 761 through the "Economic Development and Innovation" Operational Programme for the 2014-2020 programming period. The investment falls under the priority "Tourism".
Related themes
Contact
Managing Authority
Nemzetgazdasági Minisztérium Gazdaságfejlesztési Programokért Felelős Helyettes Államtitkárság
1054 Budapest, József nádor tér 2-4.
Beneficiary
Magyar Kajak-Kenu Szövetség
Latorca utca 2
1138
, Budapest
Magyarország
Web