Major restoration of seafront wall in Corfu, Greece
A landmark on the Ionian island of Corfu has been restored with the support of funding from the European Regional Development Fund. The waterside wall located at the NAOK (Nautical Club) in Corfu has undergone significant restoration in a scheme which entailed the reconstruction of sidewalks and guiderails along the adjacent Garitsa Bay seaside avenue.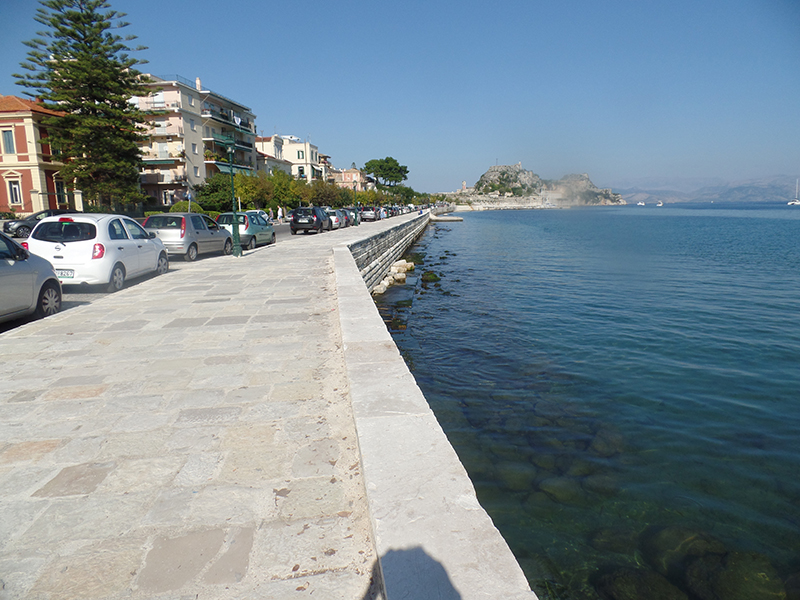 The restored waterside wall at the NAOK (Nautical Club) in Corfu, Greece. ©Managing authority of the OP Ionia-Nisia GR (2019)
" The project is important because, on the one hand, it restores a significant part of the old Venetian waterfront walls which was severely damaged and at risk of collapsing, therefore contributing to the preservation of our cultural heritage and, on the other hand, it upgrades the Garitsa bay quayside. It is a very popular spot for locals and visitors. "
The restored wall is part of the town's Venetian fortifications. Project works covered an area from the NAOK wall to the intersection of the Desyla junction, including reconstruction of about 1 450 m of pavements.
Significant repairs
The coastal wall had suffered significant damage due to weather conditions and was in need of permanent repair. A complete photographic and architectural mapping was carried out, followed by a partial dismantling and refitting of existing stonework. Temporary support constructions were removed, and a new, reinforced concrete retaining wall was constructed as part of the scheme.
In an area known as Alsyllio (little park), landscaping projects were undertaken including planting trees and flowerbeds and installing new paving. Additionally, the pavement was rebuilt from Corfu Palace to the airport junction.
Where possible, existing tiles were re-used and damaged ones were replaced by textured tiles. Traditional light fixtures and columns on the sidewalk, were dismantled, restored and subsequently put back in their original locations. Ramps for disabled people were constructed at sites where there were pedestrian crossings. All the above works were constructed and supervised by the Corfu Antiquities Ephorate.
Community benefits
The project was of great importance in conserving and restoring an important piece of the island's cultural heritage. In addition to making the wall and surrounding areas safer, much of the completed work has aesthetic value.
The restoration will therefore benefit local people and make the area more attractive to tourists.
Total investment and EU funding
Total investment for the project "Restoration of waterside wall at the location NAOK", quay walls, sidewalks and guardrails at the Garitsa seaside avenue in Corfu (Ionian islands)" is EUR 4 019 484, with the EU's European Regional Development Fund contributing EUR 2 998 880 through the "Ionian Islands" Operational Programme for the 2014-2020 programming period. The investment falls under the priority "Environment and resource efficiency".
Draft date
27/07/2020
Related themes
Technical information
Fund
European Regional Development Fund
Operational programme
Ionian Islands - ERDF/ESF
Thematic Objective
Environmental protection & resource efficiency
Programming period
2014-2020
Project duration
01/2014 - 12/2019
Total Investment
4 019 484 EUR
EU Investment
2 998 880 EUR
Contact
Managing Authority
Ειδική Υπηρεσία Διαχείρισης Επ. Προγράμματος «Ιονίων Νήσων 2014-2020.»
Αλυκές Ποταμού, 49100 Κέρκυρα
Beneficiary
Region of Ionian Islands
Alykes Potamou
49100
, Corfu
Ελλάδα - Ellada
Web