Long-term cooperation between small businesses in the North Sea Region
The Lean Landing For Micro SMEs project fosters innovative and lasting cooperation between micro-businesses, business incubators, knowledge institutions and public business development funders in six North Sea Region countries. It does this through development of a concept for creating profit-enhancing knowledge partnerships.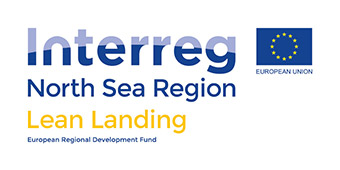 Lean Landing for Micro SMEs project logo ©Vaeksthus Sjaelland
" Micro SMEs have limited resources and that is why they need to market validate their products and services as soon as they want to go abroad. The best way of doing this is by quickly starting a dialogue with potential customers or partnerships in the new markets, and not spending time on market analyses and other planning activities, which many micro SMEs normally do. Thus we have designed a lean landing process which will help the SMEs that join the project by facilitating potential customer and partnership meetings. "
Lean Landing For Micro SMEs has established an extensive network of business incubators in the six participating countries (Denmark, Germany, Netherlands, Norway, Sweden and UK) who work together on developing the partnership's concept and programme. The concept is to be offered to 250 micro-businesses operating within the incubators.
Business exchanges between the incubators will help to foster partnerships among the companies, as well as between companies and knowledge and business development institutions.
Essential support for future competitiveness
Few North Sea Region small businesses engage in cross-border cooperation activities other than exports and long-term export success among such businesses is rare. Moreover, very few small companies not currently involved in international activities are planning to get involved in them. Support for international partnerships among small businesses is thus vital for the region's future competitiveness.
To tackle this, the partners are developing a business exchange network and a programme blueprint, along with an implementation plan for each partner country based on the Lean Start-up business development method. This method is aimed at shortening product development cycles, and reducing market risks and the need for large amounts of initial funding.
Joint creation of an innovative concept by business incubators and business development entities should enable participating enterprises to form meaningful knowledge-sharing partnerships, succeed in their internationalisation efforts and access new markets. In turn, the companies will be in a better position to engage in research, development and innovation, create new products and increase profits.
Getting micro-businesses into partnerships and new markets
The target is to get 160 micro-businesses into partnerships and new markets through collaboration based on the Lean Start-up methodology. The network created by the project should be sustainable in the long term and the partners hope that it will encompass 12 EU countries by 2020.
Another aim is to have 60 enterprises and eight research institutions participating in cross-border, transnational or interregional research projects. The partners also hope to have informed 500 organisations about new business solutions by the end of the project, with the objective of getting 180 to adopt such solutions.
The results will be made publicly accessible and disseminated through translation into a blueprint and via a networking and knowledge sharing event for incubators and policymakers from across the EU.
Total investment and EU funding
Total investment for the project "Lean Landing For Micro SMEs" is EUR 3 620 774, with the EU's European Regional Development Fund contributing EUR 1 706 258 through the "North Sea" Operational Programme for the 2014-2020 programming period.
Draft date
11/02/2019
Related themes
Technical information
Fund
European Social Fund (ESF)
Programme
Interreg TN - North Sea
Thematic Objective
Competitiveness of Small and Medium-sized Enterprises (SMEs)
Programming period
2014-2020
Project duration
11/2015 - 05/2019
Total Investment
3 620 774 EUR
EU Investment
1 706 258 EUR
Contact
Managing Authority
Danish Business Authority, Managing Authority
Vejlsøvej 29, DK-8600 Silkeborg, Denmark
Beneficiary
Vaeksthus Sjaelland
Marienbergvej 132, 1
4760
, Vordingborg
Danmark
Web