GPT 2015+: Dutch-German border police implement information management strategy
Police on the border of Germany and the Netherlands have improved their cooperation and crime-fighting ability by implementing an information management strategy, and by using new investigation techniques and technology.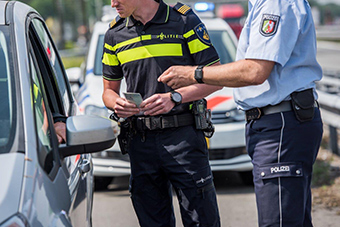 Dutch and German police officers at work. ©Reiner Oberhaus
" Criminals don't stop at state borders. The security authorities can only meet this challenge together. The successes of the past show how important the GPT is. Ultimately, it is not only the authorities that profit from the gain in security, but first and foremost the citizens. "
The German-Dutch border police team in Bad Bentheim – which consists of officers from Lower Saxony, North-Rhine Westphalia and the Netherlands – has been on patrol in the region for the last 10 years and has been very successful.
The team carries out joint patrols to combat cross-border crimes such as smuggling, human trafficking, document falsification, drug trafficking, and money laundering.
Better collaboration
The GPT 2015+ project focused on implementing a new information flow system to make the work of the different security agencies more effective. Coupled with the use of the latest technology, this involved setting up secure data lines and digital radio network connections between the police forces of both countries.
In particular, the project helped bring about enhanced information management through better collaboration on the collection, evaluation and control of information. This resulted not only in a digital radio network that is being used on both sides of the border, but also a common information centre. Together with the joint use of equipment, this has led to better cross-border collaboration to tackle crime.
The project enhanced the police's institutional capacity to make public administration more efficient and promoted cooperation between citizens and institutions – both on the administrative and legal fronts. In addition, marked vehicles were acquired as part of GPT 2015+ and equipment feasibility studies were carried out.
Creation of jobs
The project led to the creation of 23 new positions. More than 100 people took part in training on cultural and language differences. About 250 people participated in local employment initiatives and training, and nearly 500 received individual advice on administrative and legal matters.
Total investment and EU funding
Total investment for the project "GPT 2015+" is EUR 799 659, with the EU's European Regional Development Fund contributing EUR 399 829 through the "INTERREG V-A Germany - The Netherlands" Operational Programme for the 2014-2020 programming period. The investment falls under the priority "Better public administration".
Draft date
26/07/2019
Social media
Related themes
Contact
Managing Authority
Ministerium für Wirtschaft, Energie, Industrie, Mittelstand und Handwerk des Landes Nordrhein-Westfalen, Referat IVA4 Europäische Territoriale Zusammenarbeit
40190 Düsseldorf
Beneficiary
Polizeidirektion Osnabrück
Intermediate body
Joint INTERREG-Secretariat
Technisches Sekretariat c/o Euregio Rhein-Waal
Emmericher Straße 24
47533
, Kleve
Deutschland
Web