Smart energy solutions for isolated communities in France and the UK
Supplying energy to isolated communities creates a big carbon footprint and is vulnerable to disruption due to their dependence on external, fossil-fuel based sources of energy, low grid transmission capacity and limited connection to wider grids. To improve energy efficiency, reliability and sustainability in such areas, the Intelligent Community Energy (ICE) project aims to produce low-carbon energy models in France and the UK that cut greenhouse gas emissions by 50-100 % compared with fuel-based systems.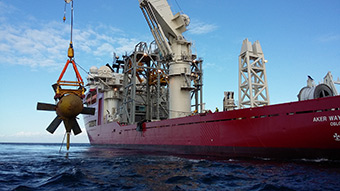 The ICE project will cover the entire energy cycle from production to consumption. ©Intelligent Community Energy – ICE Project
" By developing and deploying an innovative smart energy system, Intelligent Community Energy significantly contributes to the sustainable energy transition in which both France and the UK are engaged. At local level, it contributes to achieving the long-term objective of the 2014 Breton energy roadmap by aiming to deploy large-scale projects based on successful local experiences. Also, as Ushant's renewable energy target is 100 % for 2030, the project will significantly contribute to reaching this ambitious objective. "
The project will cover the entire energy cycle, from production to consumption, and exploit local, renewable sources. It has compiled case studies to assess current and likely future energy needs for remote communities. These will feed into the design of two pilot demonstrators, incorporating five new and existing technologies, to be implemented on the French island of Ushant and at the University of East Anglia (UEA) in the UK.
Deployment from 2017 to 2019 of the demonstrators is based on a market-oriented approach involving engagement with consumers and policymakers. Validation at the two sites will lead to the development of a business model to help other sites switch to low-carbon systems. The model will be available in 2020.
Two test sites
The ICE case studies reviewed renewable energy technologies available for isolated communities, outlined methodologies for assessing available resources and identified constraints – including regulatory and policy factors. A sustainability framework was designed and applied to existing and planned energy systems to gauge environmental, technical, economic and social aspects over their entire life cycle.
As regards the test sites, at Ushant – which is not connected to the mainland power grid – the aim is to optimise energy supply from a tidal turbine already connected to a local grid. The UAE campus is equipped with low-energy buildings and energy efficiency technologies. Here the focus is on implementation of a new smart grid. The proposed solutions are based on an assessment of natural, technological and socio-economic resources, and local energy conditions and systems.
During testing, the technologies within the system – such as sensors and automation, software, data collection and energy management tools – will be improved or better integrated with one another. Volunteer UEA students and 80 Ushant residents will test the system, resulting in its validation for wider deployment.
Transfer to other areas in 2020
The business model template will consist of a set of guidelines to help isolated communities identify appropriate low-carbon transition processes. It will be based on criteria including technological sophistication, policy issues, sustainable development and stakeholder engagement, and will identify key players' roles, the rationale behind technology and policy choices, and the skills needed to operate in isolated territories.
To transfer the methodology, ICE plans to set up a consortium of SMEs and other companies able to assess local renewable energy resources and provide relevant expertise and technologies. The offer will initially be targeted at five communities.
By giving SMEs the chance to enter new markets, ICE will enhance their competitiveness, while increasing value for money for consumers. It will also show how innovative grid management systems can adapt to local constraints and help cut harmful emissions, thereby providing health benefits.
Total investment and EU funding
Total investment for the project "Intelligent Community Energy" is EUR 7 970 062, with the EU's European Regional Development Fund contributing EUR 5 499 342 through the "Interreg V-A - France-United Kingdom (Manche/Channel)" Operational Programme for the 2014-2020 programming period. The investment falls under the priority "Support the transition to a low carbon economy in the Channel area".
Draft date
27/02/2019
Contact
Managing Authority
Norfolk County Council, Economic Development and Strategy
County Hall, Martineau Lane, Norwich, NORFOLK, NR1 2DL
Beneficiary
Bretagne Développement Innovation
1 bis Route de Fougères
35510
, Cesson-Sévigné
France
Web