International Business Forum on Sustainable Development – Strengthening regional integration in the south-west Indian Ocean
The International Business Forum on Sustainable Development took place in Réunion from 21 to 23 November 2018. It brought together 400 participants from 11 Indian Ocean countries. The aim of this sixth forum was to strengthen regional integration by creating closer connections between regional economic operators, but also to demonstrate the impact of collaboration between businesses as a driver for development, increase joint investments between companies, and encourage reforms in favour of a better climate in the business environment.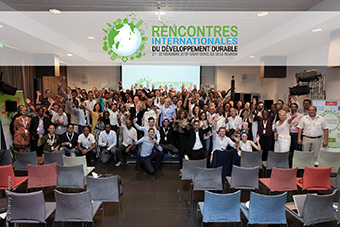 Delegation of the International Business Forum on Sustainable Development, which met from 21 to 23 November 2018 in Réunion ©Club Export Réunion
" After five preceding events and to celebrate 20 years of existence, the Club Export wants to mark its annual bilateral forums via a multilateral forum where actors and partners of the south-west Indian Ocean are invited to come and meet all those involved in the local economy. "
The International Business Forum on Sustainable Development enabled work on the following three themes:
stronger regional integration in the context of the new market map and investment needs on the African continent;
the place of the Indian Ocean in the new areas of influence, because of China's interest in Africa's assets;
the construction of a sustainable development model for island economies.
Six themes were addressed, with the shared objective of finding drivers for growth in response to the challenges of sustainable development: smart grids, smart cities, circular economy, agro-nutrition and health security, smart seas and food sovereignty.
Conferences and workshops
The forum took the form of conferences with international experts and consultants, themed workshops, business-to-business meetings and networking cocktail events. Foreign delegations were also offered the opportunity to go on themed site visits.
There were five conferences: 'France in the Indian Ocean: Influence Across the Ocean'; 'Regional Integration in Africa: Towards a Common Continental Market'; 'The Silk Road: Opportunities for the Indian Ocean'; 'Africa is the Future... Now'; and 'The Development of Island Economies'.
Smart cities, smart seas, smart grids and more
Six themed workshops dealt with the following subjects:
Smart Cities: building the cities of tomorrow in an island and tropical environment
This included a review of the projects and prospects, then a presentation of Réunion's Eco-city and Mauritius' Smart Cities. The issue of adapting construction materials and standards was also addressed.
Smart Seas: the Indian Ocean as a place of union and growth
This workshop looked at harnessing the potential of oceanic resources. Beyond the building of infrastructures, it aimed to consider issues relating to climate change, waste processing and sustainable supply chains.
Smart Grids: achieving energy self-sufficiency with renewable energies
This workshop aimed to highlight the expertise of companies and promote the Indian Ocean Commission's Energies programme.
Agro-nutrition and health security: Eating healthily with high-quality, local products
Circular economy: less waste and more opportunities for recycling or reuse
This workshop looked at harnessing the assets of territories to eventually make them a true place of exchange.
Food sovereignty: making better use of food resources.
This workshop addressed several themes: providing for the food needs of island populations, reducing nutritional imbalances, creating new commercialisation circuits between regions to favour growth and employment, and processing agricultural products.
The forum was also a way of raising Réunion's international profile. The attendance of economic and institutional players and journalists from more than ten territories was a chance to introduce them to the island, its infrastructures, its skills and its know-how.
Total investment and European funding
Total investment for the project 'International Business Forum on Sustainable Development' is EUR 386 265; the European Regional Development Fund contribution is EUR 285 362 through the 'INTERREG V Indian Ocean' cooperation programme for the 2014-2020 programming period. The investment falls under the priority 'Supporting the capacity of SMEs to grow on regional and international markets and to engage in innovation processes'.
Draft date
03/07/2019
Related themes
Contact
Managing Authority
Conseil Régional de La Réunion
Avenue René Cassin, Sainte-Clotilde 97490, La Réunion
Beneficiary
C/O MRST
3 Rue Serge Ycard
97490
, Sainte-Clotilde, Ile de La Réunion
France
Web