Promoting 3D metal printing in South Karelia, Finland
To promote the use of 3D printing for producing metal industrial parts, the Metal 3D Innovations (Me3DI) project has formed a regional knowledge cluster in South Karelia, Finland. Comprising engineers, designers, providers of industrial systems and materials, research centres and users of metal parts, the cluster has gained wider access to 3D printing expertise, resources and services. The resulting digitalisation of cluster members' work processes increases their capacity to innovate and gives them a competitive advantage.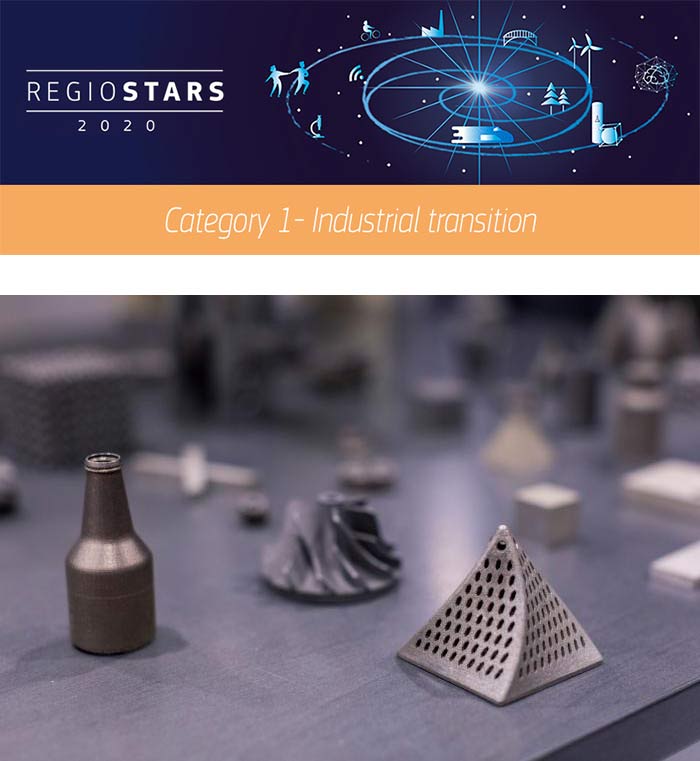 Some of the metal parts produced as part of the Metal 3D Innovations project in South Karelia, Finland. ©Metal 3D Innovations
" The know-how provided and promoted by Me3DI helps students and regional companies in South Karelia to develop and expand their ideas and business, and to use 3D printing independently after the end of the project. "
Me3DI analysed local 3D metal printing needs and knowledge and trained cluster members. Users' understanding of the advantages and limitations of 3D printing has increased; the printability of various products has been evaluated; and new ideas have been formulated.
The project has identified problems with existing methods, offering potential solutions and supplying tools for determining properties of printed parts and testing. Guidelines for process optimisation and choice of materials and case studies have been shown to cluster members to encourage them to use 3D printing in their own fields.
Superior performance
3D printing technologies are developing rapidly and have been widely adopted in manufacturing, as they allow machinery components to be customised for superior performance. 3D printing makes it possible for parts to be made locally and on demand, thus reducing logistical and storage costs and transport emissions. The advantages of this kind of production arrangement became especially visible during production of medical equipment to respond to the COVID-19 pandemic.
By demonstrating the entire workflow of 3D printing, from initial idea to final product, Me3DI has familiarised cluster members with the added value it generates, and with supply chains for 3D printed components. The members tested 3D printers for free to assess their applicability to their own projects.
Simulation software has been acquired to show how IT tools enable users to get even more benefits from 3D printing. Digital models of objects highlight how materials will respond to stress, temperature change and deformation during printing, so that any potential issue can be addressed in advance. This saves time and material, increases product quality and provides valuable data for further improvements of 3D printing technology. Moreover, having a digital account of the process itself makes tracking of printed parts easier.
Spreading the word
Material detailing the knowledge generated by Me3DI has been published to attract the interest of companies who have not yet tried 3D printing. Awareness has been raised through participation at regional, national and international trade fairs and conferences. Dissemination of project results will continue via online training.
Me3DI has formed partnerships with other EU-funded projects, worked with universities across Europe on training material, R&D and scientific publications, and compiled a database of 3D printing experts in Finland. Meetings have been held to encourage women to take up careers in 3D printing. A 3D printing youth club has conveyed know-how arising from the project to some 300 children.
Project coordinator, LUT university, now runs five 3D printing courses, while 16 theses on the subject and 19 papers for publication in scientific journals have been written. Furthermore, 15 papers and three PhD theses are under preparation and LUT university is set to launch four new projects related to 3D printing in industry.
Total investment and EU funding
Total investment for the project "Metal 3D Innovations" is EUR 322 671, with the EU's European Regional Development Fund contributing EUR 225 870 through the "Sustainable growth and jobs" Operational Programme for the 2014-2020 programming period. The investment falls under the priority "Research and innovation".
Draft date
21/09/2020
Related themes
Contact
Managing Authority
työ- ja elinkeinoministeriö, yritys- ja alueosaston rakennerahastot ja koheesiopolitiikka -ryhmä
Eteläesplanadi 4, Helsinki, PL 32, 00023 Valtioneuvosto
Beneficiary
LUT University
Yliopistonkatu 34
53850
, Lappeenranta
Suomi - Finland
Web