Bringing innovation to hospital healthcare in southern Finland
Two university hospitals in Finland have introduced innovative practices to their administrative and clinical work, thanks to a project backed by the European Regional Development Fund. The project 'University Hospitals as Innovation Platforms' (YSI) addressed a range of needs and developed solutions with the help of businesses and clinical staff to improve performance and other outcomes at the university hospitals in Turku and Oulu.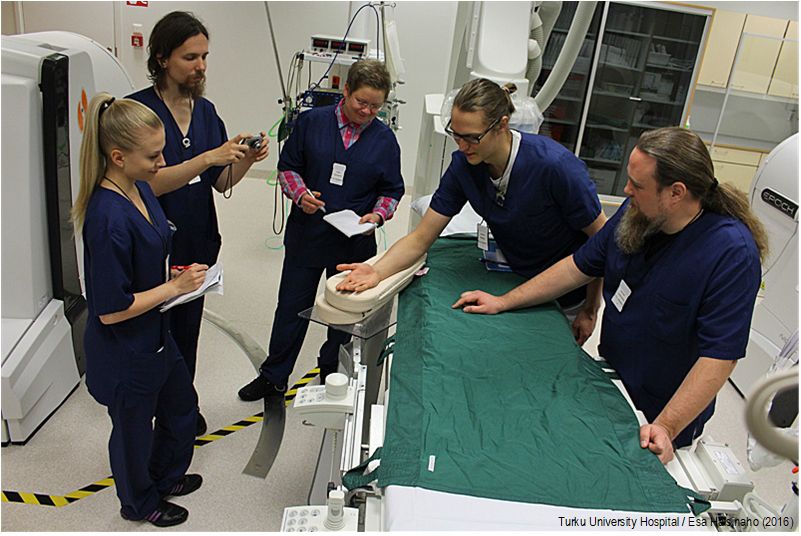 The YSI project has helped two university hospitals in Finland introduce innovative practices to their administrative and clinical work. ©YSI: University Hospitals as Innovation Platforms
" The project introduced a completely new way to create business, through co-creation in a hospital environment. The majority of participating companies considered the co-creation of their solutions in close cooperation with professionals an important and exceptional opportunity. Getting direct and rich feedback for the development of solutions accelerated product development, ensuring that the developed solutions meet the needs of the stakeholders. "
In Finland, the highest clinical and research expertise resides in the university hospitals, which offer top quality clinical care while training future health professionals. However, national strategies reveal that these units are under-utilised resources in terms of healthcare innovation. To remedy this, the YSI project investigated how clinical needs could be addressed with the collaboration of healthcare sector businesses. 
Co-creation projects
YSI discovered 118 clinical needs that passed assessment by experts. Of these, 46 were used to start 18 co-creation projects which brought together various healthcare businesses and hospital staff to work on delivering effective solutions. One successful co-creation project introduced in the two project hospitals centred around improving pain measurement. A specific need related to the measurement of pain in pediatric patients was recorded. This need was then realised as a co-creation project with a company that developed a device with healthcare professionals.
In another co-creation innovation, mobile care stations have been introduced to the hospitals. Needs related to medication logistics were examined and reported to healthcare businesses. This resulted in the development of a mobile care station that better meets the needs of clinical personnel.
The project team has also created and tested the first innovation platform model for Finnish university hospitals, which has already been integrated to the University Hospital of Oulu. The platform brings companies, hospital professionals and clients together to develop future hospital services.
In addition, YSI established the Innovation Organisation of University Hospitals, which coordinates innovation activities and supports its stakeholders. In addition, the role of clinical innovation ambassadors has been introduced. Both these concepts were integrated into the innovation landscape via a national project (Virtuaalisairaala 2.0) that involved all five Finnish university hospital districts. 
Championing innovation
The function of the innovation ambassadors and the innovation organisation are central to bridging the worlds of industry and healthcare. The ambassadors, and other roles in the newly created model, are becoming a permanent fixture in Finnish hospitals and are known to staff. According to the YSI team, this gives the innovations a face and a 'champion' – and someone who can be approached with an idea or a new need. 
Total investment and EU funding
Total investment for the project "YSI: University Hospitals as Innovation Platforms" is EUR 716 334, with the EU's European Regional Development Fund contributing EUR 479 943 through the "Sustainable Growth and Jobs 2014-2020 – Structural Funds Programme of Finland" Operational Programme for the 2014-2020 programming period. The investment falls under the priority "Research and innovation".
Contact
Managing Authority
työ- ja elinkeinoministeriö, yritys- ja alueosaston rakennerahastot ja koheesiopolitiikka -ryhmä
Eteläesplanadi 4, Helsinki, PL 32, 00023 Valtioneuvosto
Beneficiary
Turku Science Park Ltd.
Joukahaisenkatu 3-5 A
20520
, Turku
Suomi - Finland
Web