Undine II: Opening the Western Baltic sea to eco-friendly tourism
Germany and Denmark have joined forces in a project which allows tourists to explore the fascinating underwater world of the Western Baltic sea. As well as enjoying activities such as scuba diving and snorkelling, visitors to the cross-border region can learn about this important marine habitat through specially arranged discovery tours. To develop its programme, UNDINE II brought together experts in environmental protection, ecology and tourism.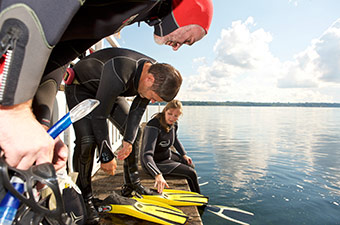 UNDINE II makes the fascinating underwater world of the Western Baltic Sea accessible ©UNDINE II
" More and more guests come to enjoy the Baltic Sea in the project region. But the visits end mostly at the surface. UNDINE II enables every visitor to get to know the fascinating underwater world an "
The project's goal is to increase turnover in the local tourism sector without overexploiting an important and fragile natural asset. UNDINE II established a cross-border network of 17 organisations who collaborated to establish new tour offers at Nature Information Centres and across the whole area. Environmentalists, conservationists and tourism bodies come together in the centres to provide visitors with insight into the Baltic's underwater ecology before they enjoy their active holidays.
Careful management
Everything arranged through UNDINE II is managed to balance care for the environment with visitor recreation. All project partners have agreed on all the activities. For example, a catalogue of eco-friendly diving sites will be published in 2019 to include visitor guidance notes. The aim is to ensure that the opening-up of the diving spots and their increased promotion does not lead to ecological problems.
So far, 13 organisations have launched new or improved products in the area of culture or nature tourism thanks to their connection with UNDINE II. These include hosting more than 60 guided nature tours and the development of a whale-watching boat tour, which is hundreds of people enjoy every year. While the project does not close until the end of 2019, it has already helped attract an extra 2 300 visitors to the region.
Raising awareness
The project is promoting a greater understanding of the Western Baltic sea marine ecosystem. It has published guides to raise awareness of the dangers the sea faces and the need for protecting it. In addition, 200 people took part in painting competitions, which explored themes relating to the local environment and sea life.
Total investment and EU funding
Total investment for the project "UNDINE II" is EUR 1 466 654, with the EU's European Regional Development Fund contributing EUR 1 099 991 through the "Interreg VA Germany-Denmark" Operational Programme for the 2014-2020 programming period. The investment falls under the priority "Sustainable Development.
Draft date
21/02/2019
Social media
Related themes
Contact
Managing Authority
Investitionsbank Schleswig-Holstein, Abteilung IB.SH Europa
Fleethörn 29-31, 24103 Kiel
Beneficiary
Bund für Umwelt und Naturschutz Deutschland (BUND
Landesverband Schleswig-Holstein
Schleswig-Holstein e.V. Lorentzendamm 16
24103
, Kiel
Deutschland
Web