Cross-border project between Sweden and Denmark tackles infertility
According to the World Health Organisation, 15 to 20 % of all couples experience infertility, which is a huge medical and social problem. A cross-border project covering the Öresund region of Denmark and Sweden is examining this issue and aims to become a world leader in overcoming infertility by developing new prevention strategies and more effective treatments. And thanks to specially designed agreement, patients can cross the border to find the most effective help.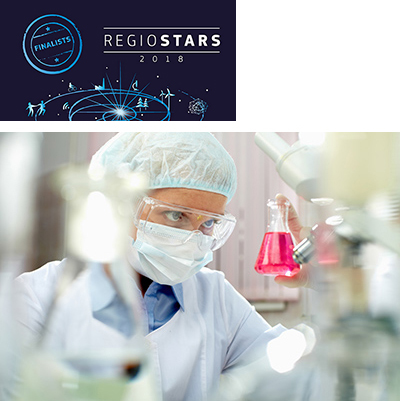 A researcher at work. ©ReproUnion
" ReproUnion has effectively harnessed the common resources needed to tackle infertility by bringing together academia, the health care sector and the life science industry. Plus, our Patient Mobility Agreement is an example of how health resources can be used more efficiently while increasing treatment quality for patients. "
ReproUnion is a multi-disciplinary collaboration which is working to meet current and future demands for the management and prevention of infertility problems. The project network includes thirteen clinical and research organisations based in the Capital and Zealand regions of Denmark, as well as Region Skåne in Sweden. Medicon Valley Alliance and Ferring Pharmaceuticals are also project partners.
Backing research
The project set about tackling infertility by exploring better and cheaper treatments and preventative measures. In order to strengthen research capacities, it has established 20 projects that are being undertaken by PhD and post-doctoral students. All the projects have a cross-border dimension, connecting hospitals and universities in Denmark and Sweden. The research aims at delivering new understanding relating to underlying infertility problems as well as of ground-breaking medical techniques.
The project has also developed a Patient Mobility Agreement (PMA), which gives all patients in the Öresund region equal access to optimal care. Under the PMA, Swedish women undergoing cancer treatment now have the opportunity to freeze their ovaries at specialist facilities in Denmark. A similar service is available to Swedish HIV/hepatitis patients who can undergo in vitro fertilisation across the border.
Meanwhile, couples from Denmark can receive infertility treatment with donated eggs at a Swedish public clinic. The agreement also provides quality health care closer to home. For example, helping patients from southern Sweden in nearby Denmark means they do not have to travel to Stockholm for the same treatments.
Counselling services
ReproUnion has also established a free-of-charge counselling services. This focus on reducing the need for assisted reproductive treatments by providing information about the impact lifestyle and environmental factors can have on fertility. Under these services, individuals are also offered tailored fertility assessments.
The project has attracted international attention, which is further strengthening regional capacities and levels of expertise. For example, the European Association of Urology (EAU) and European Society of Human Reproduction and Embryology (ESHRE) have joined forces with ReproUnion to start two fellowship programmes.
In addition, ReproUnion has played an active role in bringing international conferences to the region, including the Annual European Association of Urology 2018 in Copenhagen and the 10th Meeting of EAU Section of Andrological Urology 2017 in Malmö.
Beneficiaries
"I left the fertility clinic relieved. It was really nice to be assured that I did not have to rush to have children in the middle of education and anything else. It's not guaranteed, but it's nice to get an idea of how many years you have available to become a mother. I've been worried that I didn't have much time left if I wanted to become a mother."

Stine, 26, fertility clinic user.
"Project ReproUnion changed our lives forever! It gave us hope in difficult times and gave us the gift to be able to have children. The cooperation between the Swedish and Danish team was extraordinary! We traveled from Sweden to Denmark for the surgery and the professional team made us feel like at home! We will be thankful for the rest of our lives!"

Swedish patient who went to Denmark for specalised treatment
Total investment and EU funding
Total investment for the project "ReproUnion" is EUR 15 380 000, with the EU's European Regional Development Fund contributing EUR 7 690 000 through the "Interreg Öresund-Kattegat-Skagerrak" Operational Programme for the 2014-2020 programming period. The investment falls under the priority "Strengthen R&D and innovation and increase applied research and innovation".
Draft date
30/08/2018
Social media
Related themes
Contact
Managing Authority
Tillväxtverket - kontor Malmö
Box 32, 201 20 Malmö
Beneficiary
Dept. of Translational Medicine
Jan Waldenströms gata 35
221 00
, Malmö
Sverige
Web