Helping young people learn about climate change across the Czechia-German border
More than 1 000 children and adolescents from the regions of Severozápad, in Czechia and Saxony, in Germany have taken part in a range of educational and cultural activities designed to raise their awareness about climate change and CO2 consumption. The project, 'On The Trail Of The Climate' offered youngsters the opportunity to learn while having fun by taking part in climate camps and study visits. The project team developed educational modules for the classroom and provided thematic training courses for teachers.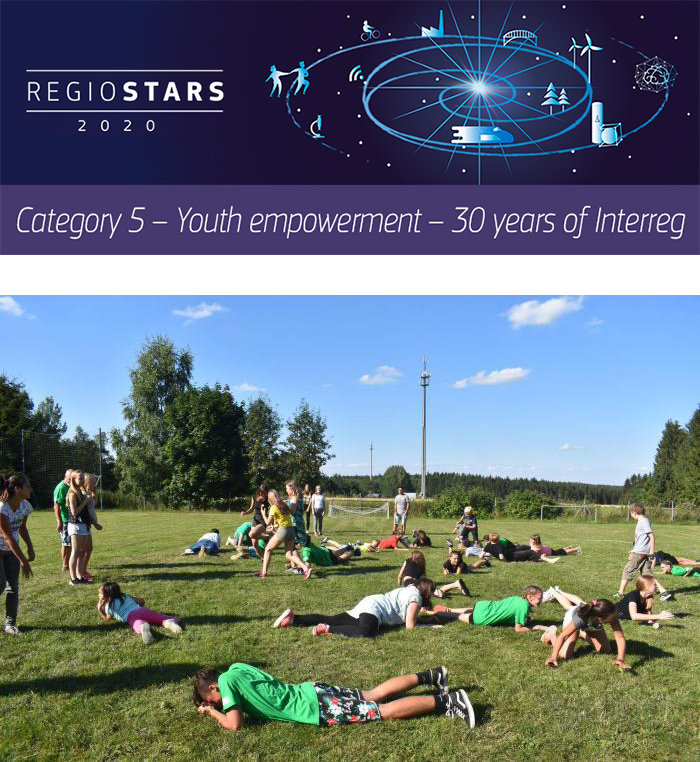 Children in the Czechia-Germany cross-border area took part in a variety of fun, educational activities to increase their awareness about climate change. ©Dem Klima auf der Spur
" Only when children are active will their own environmental protection measures become visible. "
The goal of project was to instil early awareness in children of the need to protect the climate and nature – particularly the benefit of reducing CO2 emissions by changing personal behaviour. At the same time, the project wanted to establish a cross-border offer to promote practical environmental education while integrating school and non-school activities.
Exciting activities
Numerous activities took place under the project umbrella, including 29 environmental educational events, nine climate protection camps and six themed training courses. Children enjoyed learning through taking part in guided forest hikes and visits to eco-farms and green energy plants. In addition, a 'Green Classroom & Climate House' and a nature trail called 'Activity and Environment Park' were established.
The project team analysed school curricula in Severozápad and Saxony. The results of the study have been used to inform the development of new modules for environmental education which can be rolled out in schools in the cross-border region.
Cutting consumption
According to the project's surveys, the participants have learned a lot and are now striving to reduce their own CO2 consumption through actions such as buying regional products and going on holiday without flying.
Most of those taking part enjoyed the project's practical activities which centred around climate-friendly shopping tasks or visiting places like organic farms. Mixing the playful with the practical made it easier for children to understand the issues and helped to keep them motivated and interested.
Participants found it very exciting to use different media in the environmental education camps. Many of them made small films and audio recordings on the topic of environmental-friendly mobility.
The project has had an impact on the hosting countries. The educational systems of the Erzgebirge region in Germany and Czechia have been changed to better cater for climate change issues. Moreover, various environmental awareness camps and educational sites have been permanently established, as have intercultural networks that will continue promoting activities to tackle climate change.
Total investment and EU funding
Total investment for the project "Dem Klima auf der Spur" (On The Trail Of The Climate)" is EUR 1 233 480, with the EU's European Regional Development Fund contributing EUR 1 048 458 through the "Interreg V-A - Germany/Saxony-Czech Republic" Operational Programme for the 2014-2020 programming period. The investment falls under the priority "Education and Training".
Draft date
31/08/2020
Social media
Related themes
Contact
Managing Authority
Sächsisches Staatsministerium für Umwelt und Landwirtschaf, Referat 25
Archivstraße 1, D-01097 Dresden
Beneficiary
Kindervereinigung Chemnitz e.V.
Straße Usti nad Labem 121
09119
, Chemnitz
Deutschland
Web
Beneficiary
Dům dětí a mládeže a Zařízení pro další vzdělávání pedagogických-pracovníků
(House of Children and Youth and Facilities for Further Education of Pedagogical Staff)
Velká Hradební 19
400 01
, Ústí nad Labem
Česká Republika
Web