Bringing patient-centred cancer care to Central Europe
Cancer is a leading cause of death in the EU, but with improved survival rates, how people experience cancer is changing. This requires a more patient-centred approach to care. Implemented in Czechia, Hungary, Italy and Slovenia, the INTENT project aims to develop innovative solutions to support such an approach in Central Europe.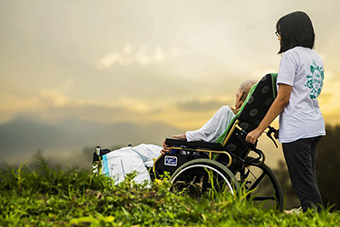 The INTENT project is developing patient-centred cancer care in Czechia, Hungary, Italy and Slovenia ©CC0 Creative Commons
" INTENT will put in place know-how, competencies and capacity to capitalise on benchmarking and social entrepreneurship in harmonising and improving patient-centred cancer care in Central Europe. This will result in a better understanding of what patient-centred care means. "
The main outputs of INTENT include a cross-cultural, patient-centred cancer care model. This will be accompanied by implementation guidelines, policy recommendations to facilitate its adoption, and performance improvement plans that identify local priorities and prospects for social entrepreneurship.
In addition, the project is developing an online benchmarking tool to show where improvements are necessary for the delivery of patient-centred care and a virtual know-how centre that will host good practices, benchmarking results and innovative ideas.
Cooperation for better care
A need for more patient-centred cancer care exists across Central Europe, making transnational cooperation, comparable benchmarking and sharing of good practices vital. INTENT provides these elements, along with a basis for cooperation with industry, to unlock innovation in public services.
The project introduces new organisational perspectives by involving local and regional networks of patients and their associations, carers, clinicians and policymakers in care design.
INTENT began by analysing existing Central European care models and identifying best practices. A stakeholder survey was used to gauge expectations for a new model based on integrated care principles and innovative social and technological solutions. The creation of a benchmarking tool containing this information will help establish performance indicators for clinical outcomes, patient satisfaction, cost effectiveness and innovation capacity.
An innovative and sustainable model
The indicators will be used to make policy recommendations to support innovation in care delivery. In developing the model, its financial sustainability will be assessed to ensure suitability and continuity.
Capacity is built through a series of workshops for care professionals on patient-centred care, effective benchmarking and production of innovative solutions. Situated at the website of the Organisation of European Cancer Institutes, the virtual know-how centre will provide training materials, to ensure continuous improvements to care in Central Europe and beyond.
Piloting of the tools and methods at various sites will promote their adoption by care providers. Initial benchmarking exercises at pilot sites will inform development of performance improvement plans. It is expected that the benchmarking exercises will be repeated regularly to assess performance against previous results and identify areas for further improvement.
Total investment and EU funding 
Total investment for the project "INTENT: using guidelines and benchmarking to trigger social entrepreneurship solutions towards better patient-centred cancer care in Central Europe" is EUR 1 809 109, with the EU's European Regional Development Fund contributing EUR 1 503 435 through the "Central Europe" Operational Programme for the 2014-2020 programming period. The investment falls under the priority "Research and innovation".
Draft date
10/04/2019
Related themes
Technical information
Fund
European Regional Development Fund
Operational programme
Interreg TN - Central Europe
Thematic Objective
Strengthen research, technological development & innovation
Programming period
2014-2020
Project duration
07/2017 - 06/2020
Total Investment
1 809 109 EUR
EU Investment
1 503 435 EUR
Contact
Managing Authority
City of Vienna, Municipal Department for European Affairs - Unit for International Co-operation (MD27)
Schlesingerplatz 2-4, 1080 Vienna
Beneficiary
Masaryk Memorial Cancer Institute – MMCI (Lead partner as of July 1 2018)
Žlutý kopec 543/7
656 53
, Brno
Česká Republika
Web
Beneficiary
Veneto Institute of Oncology – IRCCS (Lead partner until June 30 2018)
Via Gattamelata 64
35128
, Padova
Italia
Web