Improving facilities for visitors in Croatia's Brijuni National Park
The Brijuni National Park is a group of 14 islands and their surrounding seas off the coast of Western Istria, Croatia. A project supported by the European Regional Development Fund is helping the park to upgrade its tourism infrastructure and educational activities. The aim of the 'New Attire of Brijuni Islands' project is to attract more visitors while improving the efficiency of tourism management practices.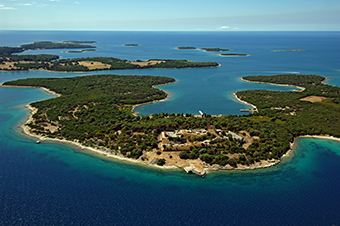 An aerial view of Mali Brijun island with the Brijuni archipelago in the background. ©Brijuni National Park
" The project New Attire of Brijuni Islands is a first comprehensive EU-funded project in the Brijuni National Park to renew tourism infrastructure, the guest transportation systems and develop new visitors' content. Furthermore, the value of the project is the reconstruction and furnishing of the former military buildings on the island of Mali Brijun to become a residential complex adapted for visitors and educational activities. By hosting kindergartens, schools, university groups, NGOs, artists, scientists and others who want to carry out educational, cultural and research programmes, the second-largest island of the Brijuni archipelago will transform its military function to a civil one. "
Key activities under the project include the following:
Installation of a tourist information office on the island of Veliki Brijun and increasing visitor mobility on the island through the purchase of a new tourist boat and two tourist road trains;
Opening up the Mali Brijun island to visitors and developing educational activities so people can learn about the island. Work here includes converting former military buildings into a residential complex.
A learning experience
The National Park is developing new general educational and presentational content to improve visitor experience and promote a greater understanding of the area's natural heritage. In addition, staff training is being undertaken to improve service delivery, which should add to people's enjoyment of the park.
Some of the Park's older buildings are being adapted to serve as venues for exhibitions and as accommodation for attendants who run educational activities and excursions. Additional infrastructure purchased as part of the project includes a new information desk and interactive screens for visitors.
Educational films
As part of the package of measures, four films are being produced which focus on nature and nature protection in the national park. The films will be showing in the park's summer cinema, whose renovation is part of the project.
The project supports efforts to improve the management of Brijuni National Park with sustainable use of natural heritage. It is hoped that improving the Park's facilities will encourage more people to visit, which in turn will boost the local economy.
Total investment and EU funding
Total investment for the project "New Attire of Brijuni Islands" is EUR 4 300 000, with the EU's European Regional Development Fund contributing EUR 3 600 000 through the "Competitiveness and Cohesion" Operational Programme for the 2014-2020 programming period. The investment falls under the priority "Environment and resource efficiency".
Related themes
Contact
Managing Authority
Ministarstvo regionalnoga razvoja i fondova Europske unije
Miramarska 22, 10000 Zagreb
Beneficiary
National Park "Brijuni"
Brijuni
52100
, Pula
Croatia
Web