Using urban agriculture to promote social inclusion in the Danube region
The AgriGo4Cities project uses urban and peri-urban agriculture (UPA) to change governance models and strengthen public institutional capacities in cities in the Danube region, with a view to tackling socioeconomic exclusion and stimulate sustainable urban development. To this end, it is developing a participatory planning methodology, which it plans to integrate into public decision-making processes.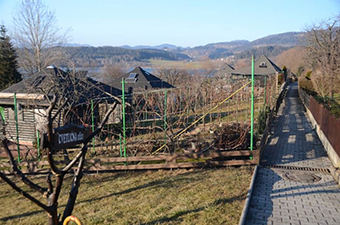 The Kunta Kinte allotments in Velenje, Slovenia – a unique example of an area of second homes ©Drago Kladnik
" Because gardening is a subsistence practice and does not require special education, AgriGo4Cities proved to be an efficient method for social inclusion. "
AgriGo4Cities has established participatory UPA partnerships and developed UPA action plans for six cities: Blagoevgrad in Bulgaria, Prague in the Czech Republic, Székesfehérvár in Hungary, Ulcinj in Montenegro, Vaslui in Romania and Velenje in Slovenia. It has compiled a good practice catalogue for participatory UPA.
In addition, a transnational multi-level governance partnership has been set up to promote participatory approaches to governance and formulate a transnational participatory UPA governance plan for fighting social exclusion and poverty.
Participatory planning
Local participatory planning has the potential to be effective in generating greater inclusion, democratisation, creativity and community spirit. Several governance challenges in the Danube region can be linked to a lack of citizens' participation in decision making. This gives rise to feelings of powerlessness, sapping motivation to engage with governance and leading to exclusion from political, social and economic life.
A widening gap between citizens and authorities intensifies mistrust and further reduces participation, especially among groups such as the poor, the unemployed, the homeless, the Roma, the elderly, women and the young. Lack of participation exacerbates inequality, which is reflected in declining quality of life.
Partnerships and plans
Consisting of public administrators, marginalised groups and other stakeholders, the AgriGo4Cities local UPA partnerships aim to help change this situation with the UPA action plans. Constituting the project's core element, the plans test the AgriGo4Cities methodology to improve the urban environment and contribute to the socioeconomic integration of communities at risk of exclusion. Through their work on the plans, these communities are able to make their voices heard.
Implementation of the plans has generated positive momentum and follow-up activity plans should sustain it after the end of the project. This is backed up by the good practices catalogue, which presents successful participatory UPA ideas and projects and highlights the important role of public institutions in such actions.
The transnational partnership fosters exchange of experience among public administrators and advances policies to build institutional capacity, increase inclusion and promote urban development via new forms of UPA.
Follow-up activities will maintain cooperation after the project period. The transnational governance plan is to be translated into the partners' seven languages – Bulgarian, Czech, German, Hungarian, Montenegrin, Slovak and Slovene – to ensure wide accessibility.
Video
Total investment and EU funding
Total investment for the project "AgriGo4Cities" is EUR 1 474 190, with EU Funds contributing EUR 1 253 061 (i.e. ERDF Contribution EUR 1 168 642 and IPA contribution EUR 84 419) through the "Danube" Operational Programme for the 2014-2020 programming period. The investment falls under the priority "Innovative and socially responsible Danube region".
Draft date
04/03/2019
Technical information
Fund
European Regional Development Fund
Programme
Interreg TN - Danube
Thematic Objective
Promoting social inclusion & combating poverty
Programming period
2014-2020
Project duration
01/2017 - 06/2019
Total Investment
1 474 190 EUR
EU Investment
1 253 061 EUR
Contact
Managing Authority
Ministry of Finance Hungary, Danube Transnational Programme Managing Authority and Joint Secretariat
Budapest, József nádor tér 2-4.
Beneficiary
Research Centre of the Slovenian Academy of Sciences and Arts
Novi trg 2
1000
, Ljubljana
Slovenija
Web