Stimulating cultural participation among young people in the Brussels Canal Zone
Move It Kanal is a bilingual French/Dutch urban project to stimulate cultural participation among young people aged 12-18 years in the Brussels Canal Zone. The ultimate objective of the project is to stimulate cultural participation among these young people by strengthening collaboration between organisations from different sectors (culture, youth and education) and communities. There are three sections to the project: establishment of a network, mediation projects and research.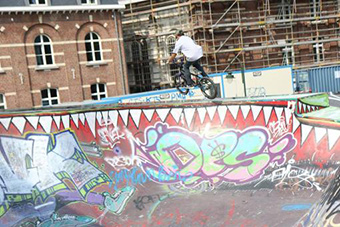 A BMX rider in a skate park. ©Lasso VZW
" Since its inception, Move It Kanal has tried to foster connections between individuals and organisations as a way of bringing young people in the Brussels Canal Zone closer to culture. Thanks to the establishment of this network, the projects and research, we are striving to create new skills and incorporate existing skills to facilitate intersectorial collaboration. "
The project has helped create a cross-sectoral, bilingual and sustainable network of organisation and institutions working with or for the target group. It has therefore been possible to map out potential partners and engage them in collaborations and experience-sharing exchanges.
In this same vein, meetings within the network have been organised on a regular basis. This network identifies, supports and documents key projects that foster collaboration between the cultural sector and youth and/or education sectors. It is also an active partner for action research.
Intersectorial and multilingual cooperation
Since late 2015, an initial qualitative research phase has been led with 55 young people from the Brussels Canal Zone, as well as with key actors from the three sectors. Eight focus areas have been identified: festivals run by and for young people; participation from young people in the cultural offer; creation of physical spaces for young people; discovery of the world of art and culture; digital technology; communication; cultural identity; and the development of artistic talent. In the meantime, 14 meetings have been held within the network, and projects based on various focus areas from the initial phase of research have been launched. Some of these projects have received scientific support in relation to the scope of their impact.
In addition to intersectorial cooperation between culture, youth and education, Move It Kanal has facilitated multilingual cooperation. Cultural participation from young people is very advanced in Brussels, but too often, initiatives are restricted to one neighbourhood, one sector, or one specific linguistic community. By focusing on the links between these existing networks and contexts, it is possible to develop and share a much broader expertise.
Tools for stimulating networking
Within the Lasso association, three employees have been specifically assigned to handling the project (a coordinator, a "schools" project collaborator, a "youth sector" project collaborator) and three employees are partially involved in the project (communication, administration and general coordination). In addition, Erasmushogeschool Brussels is employing a researcher. Ultimately, each project will lead to the creation of jobs for different roles, e.g. leading artistic workshops, documenting projects (artists, professionals in the audiovisual sector, etc.).
Online tools have been created to stimulate networking. Thus, in response to demand from professionals, a Facebook page was set up. This will serve as a platform for keeping young people in the Brussels Canal Zone informed of cultural activities, but also as a place for sharing ideas, providing suggestions and asking questions. In addition, in order to raise awareness of existing initiatives and collaborations both within and outside the Brussels Canal Zone, the Move It Kanal - Doc Series has been launched.
From early 2016 to 2017, the Erasmushogeschool Brussel carried out a survey as a starting point for the Move It Kanal project. This survey gathered data on the cultural experiences of young people in the Brussels Canal Zone. The survey's researchers interviewed young people, as well as key actors in the cultural sector, youth associations and education. The results of this research were presented in May 2017 during a conference day.
Total investment and European funding
Total investment for the 'Move It Kanal' project is EUR 2 115 319; the European Regional Development Fund contribution is EUR 1 057 660 through the 'ERDF PO Brussels Capital Region/EFRO OP Brussel Hoofdstedelijk Gewest' cooperation programme for the 2014-2020 programming period. The investment falls under the 'Promoting social inclusion, combating poverty and any discrimination' priority.
Draft date
18/09/2019
Social media
Related themes
Contact
Managing Authority
Cellule FEDER
Beneficiary
Lasso
Square Sainctelette 19
1000
, Bruxelles
Belgique - België
Web