Reducing the time to market with rapid open innovation in Italy and Austria
The Rapid OI project used an open and cross-border approach to innovation to improve the competitiveness of SMEs in the Italian-Austrian cross-border region.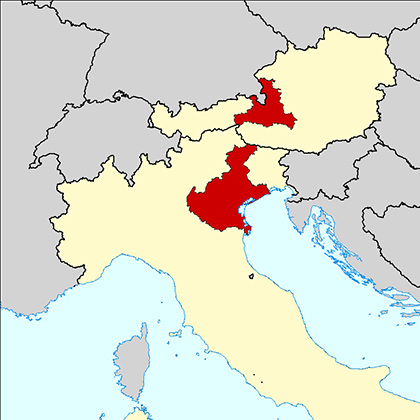 Map of the project areas. ©European Commission
" The project is built on four core beliefs. First, SMEs should have access to open innovation. Second, to access the market more quickly, an SME's product development and processes must be sped up. Third, a network of local actors in the areas of research and technology transfer must be created and managed according to the open innovation approach. And fourth, together, all of this will lead to the development of SMEs in the trans-border region. "
By focusing on strategic sectors of the area – eco-building, mechanics, wood/furniture – the Rapid OI project built an open innovation network to help SMES reduce the time-to-market for their products and services, improve the quality of their products and increase the overall speed of innovation.
Linking needs
When it comes to innovation, the Italian-Austrian cross-border area has exhibited specific needs. For individual SMEs to increase their competitiveness, they needed to reduce the time it took to develop their products and services and increase the quality of their output – all while reducing their time-to-market.
Furthermore, the region as a whole needed to enhance its innovative and competitive attractiveness by increasing opportunities for innovation. In addition, structured relationships with local SMEs were required to get them to focus on innovative processes. Last but not least, public authorities identified a need to provide support to SME product development and initiatives for process improvement.
The Rapid OI project focused on open innovation as the link capable of bringing these needs together.
An open innovation environment
The project operated at several levels. First, it developed and implemented an open innovation platform to facilitate SME contact with, and access to, a range of OI services, including: a database of local academic and scientific research competences, matching local SMEs with regional research and technology-transfer centres, and numerous thematic blogs.
The project also took a hands-on approach. For example, it helped SMEs conduct innovation audits, provided coaching, organised open innovation working labs and supported the exchange of know-how via small working groups.
Together, these services and tools resulted in the development of cross-border synergies. By taking advantage of each country's strengths, the project successfully streamlined the innovative value chain, enabling SMEs to bring their applications or products to market more quickly and more efficiently.
Concrete results
Over 116 SMEs took advantage of the OI platform to improve their knowledge and entrepreneurial know-how, innovation processes and networking capabilities. Five groups of innovative companies were created, each of which are dedicated to supporting the network, knowledge exchange and joint operations between companies and research institutions. These groups then provide SMEs and entrepreneurs with coaching, innovation audits and strategies for improving performance, thereby extending the project's overall reach.
Total investment and EU funding
Total investment for the project "RapidOI - Rapid Open Innovation – Speeding Time to Market" is EUR 578 800, with the EU's European Regional Development Fund contributing EUR 434 100 through the "Italy-Austria" Operational Programme for the 2007-2013 programming period. The investment falls under the priority "Research and innovation".
Technical information
Fund
European Regional Development Fund
Operational programme
Interreg V-A - Italy-Austria
Thematic Objective
Competitiveness of Small and Medium-sized Enterprises (SMEs)
Programming period
2014-2020
Project duration
09/2012 - 03/2015
Total Investment
578 800 EUR
EU Investment
434 100 EUR
Contact
Managing Authority
Provincia Autonoma di Bolzano – Alto Adige Dipartimento Economia, Innovazione e Europa Ripartizione Europa, Ufficio per l'integrazione europea
Beneficiary
t2i – trasferimento tecnologico e innovazione s.c.a.r.l.
Piazza delle Istituzioni, 34/A
31100
, Treviso
Italia
Web