INTESI: An integrated approach to providing public services to the Alpine region
To optimise the efficient provision of public services across the Alpine region, the INTESI project developed and implemented a new, integrated Services of General Interest (SGIs)model.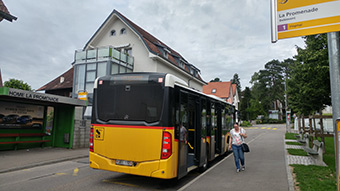 Public transport has a significant impact on quality of life and economic development. ©INTESI
" Older people want to spend the rest of their lives in their accustomed environment. This collective wish must also be implemented in rural, sparsely populated areas by strengthening their own capacity for action (empowerment) and through a mix of institutional supply offers in their vicinity – an approach successfully pursued in the INTESI project in the test area Reutte-Ausserfern. It therefore requires an openly accessible social integration of older people into everyday life, as well as an integrated and flexible range of health and care facilities. For both objectives, it is essential that all social, political and professional actors in a region work together in a targeted manner to establish a diverse, coordinated and financially viable range of services for their own region. "
Services of General Interest (SGIs) are services that public authorities of the EU member countries classify as being of general interest and, therefore, subject to specific public service obligations. Provided by either the state or the private sector, they include such things as public transport, postal services and healthcare. SGIs have a significant impact on both the quality of life of a given population and on how attractive an area is for economic development. Their supply, quality, accessibility and affordability are crucial to overcoming social exclusion and preventing decreasing populations in rural areas.
Despite their importance, today's approach to SGIs tends to be sectoral, leading to the provision of isolated solutions. The EU-funded INTESI project worked to overcome this sectoral approach by promoting better coordination and integrated territorial strategies. The result was the creation of synergies across SGIs and an optimisation of how public money and human resources were utilised.
Intervention model
The project first collected and analysed all the SGI strategies being used across the Alpine region. This provided researchers with a state-of-play of SGI delivery, challenges, needs and opportunities. Next, INTESI developed an intervention model for addressing the challenges of implementing an integrated territorial strategy. Ideally, degrees of integration are pursued simultaneously at the actor (e.g. national authority, region, municipality, service provider, etc.), administration (e.g. national, regional, municipal, etc.), financial (private and public), policy and services levels.
The project then implemented this method through eight pilot activities, with the goal of testing SGI strategies and improving their overall delivery.
Piloting care
One example of the project 'in action' is in the Reutte-Ausserfern district of Austria. Here, the project implemented a pilot action that provided mobile social and health care services to elderly people. Elderly people living on their own were provided with technical devices for monitoring and tracking their health.This information was then provided to the mobile care service provider and medical doctors for analysis and care planning. As a result, ICT support has now been integrated into the daily routine of the region's mobile care provider and the elderly population is benefiting from better, more convenient healthcare.
Success stories like this are then shared via the INTESI think tank. Called the Alpine Think Tank, it is a platform for the exchange of best practices on the provision of SGIs across the Alps. In addition to identifying upcoming challenges for SGI, the Think Tank discusses policy recommendations, reflects on the work of SGI projects and proposes technical and political solutions.
Video
Total investment and EU funding
Total investment for the project "Integrated territorial strategies for Services of General Interest" is EUR 1 938 639 , with the EU's European Regional Development Fund contributing EUR 1 501 473 through the "Alpine Space" Operational Programme for the 2014-2020 programming period. The investment falls under the priority "Jobs, growth and investment".
Draft date
22/02/2019
Related themes
Technical information
Fund
European Regional Development Fund
Programme
Interreg TN - Alpine Space
Thematic Objective
Institutional capacity building & efficient public administrations
Programming period
2014-2020
Project duration
12/2015 - 12/2018
Total Investment
1 938 639 EUR
EU Investment
1 501 473 EUR
Contact
Managing Authority
Land of Salzburg (Austria), represented by the Government Office of the Land Salzburg, department 1 for Economy, Research and Tourism, unit 1.1
Südtirolerplatz 11, 5010 Salzburg
Beneficiary
LP Swiss Centre for mountain regions and other 9 PPs in 5 alpine countries
Seilerstrasse 4
3001
, Bern
Suisse
Web