New tools to nurture urban green spaces in Central Europe
Ten partners from seven central European countries joined forces to create or transform green spaces in urban settings. Working with community groups, residents and local authorities, the Urban Green Belts project devised three new 'smart' models and then tested them out in eight pilot schemes. The project has helped to improve the planning and management decisions of public sector bodies responsible for green spaces, such as parks, woodland and recreational areas.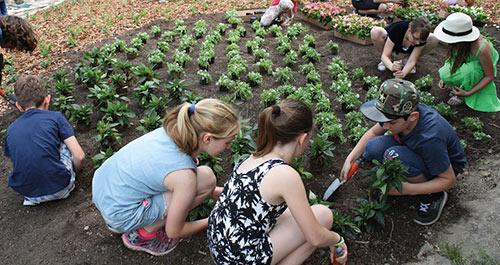 The Urban Green Belts projects brought together 10 partners from seven central European countries to create or transform urban green spaces. ©Urban Green Belts
" All municipalities are working hard to have more and better quality green spaces in cities. The Urban Green Belts project has made us aware that the municipality is not alone in this work. We can count on many partners, experts, citizens, NGOs or governmental institutions. The project has given us the tools to help the municipality work with its partners to manage and maintain green spaces. "
The project tested three different approaches to urban spatial planning and green strategy elaboration. Their solutions and tools guide local municipalities on how to tackle urban green space management smartly. All the models developed have been channelled into the seven participating regions' green strategies. 
Smart support models
A geographic information system model exploited geo-informatics tools – from data collection to spatial analysis and visualisation – to evaluate the purpose of a green space, along with issues such as maintenance, sustainability and profitability. This model was designed to support regional development decision-making.
A community involvement model created a comprehensive overview of participatory techniques which could get local people involved in running green spaces. This model helped users generate ideas, develop joint management plans and raise awareness. The results have been successfully applied by partners and integrated into urban development strategies.
The project's multi-stakeholder governance model provides guidance on establishing new forms of cooperation and acts as a platform to encourage public discussion. It can also be used as a capacity-building tool by public authorities and includes a training curriculum, which has proved useful to decision-makers looking for fresh ideas and approaches. 
Sustainable schemes
The models proved their worth in developing the pilot actions, many of which have become lasting and sustainable initiatives. In fact, a number of the pilots were designed on a long-term basis with support from local public bodies. For example, a stewardship programme established in Budapest, Hungary – which already includes 26 public green spaces nurtured by residents – is being extended. 
In Krakow, Poland, social activities and small investments have helped to increase numbers visiting the Witkowice forest. A new user group of runners has become involved, and a playground will be built using a participatory budget. In addition, the forest area used for recreation is set to be increased from 15 ha to 120 ha.
Meanwhile in Maribor, Slovenia, stakeholders have designed a proposal for the rehabilitation of a green area which lies within an abandoned building complex. The proposal will be realised as part of a plan for revitalisation of the entire area, with the support of city authorities.
The regions involved in the project have exchanged ideas and tools. For example, Krakow is looking into developing its own stewardship programme. A data collection app developed in Padova, Italy, is being used by the Croatian city of Zadar to enlarge its land records. Meanwhile assessment indicators deployed in Salzburg, Austria, are being exploited in Budapest to analyse suitable new green spaces.
Total investment and EU funding
Total investment for the project "Urban Green Belts" is EUR 2 391 306, with the EU's European Regional Development Fund contributing EUR 2 005 050 through the "Interreg Central Europe" Operational Programme for the 2014-2020 programming period. The investment falls under the priority "Environment and resource efficiency".
Draft date
05/02/2020
Related themes
Contact
Managing Authority
City of Vienna, Municipal Department for European Affairs - Unit for International Co-operation (MD27)
Schlesingerplatz 2-4, 1080 Vienna
Beneficiary
Municipality of 12th District of Budapest (Hegyvidék)
Böszörményi út 23-25
1126
, Budapest
Magyarország
Web