INNOWOOD – A more competitive Austria-Hungarian wood-processing, furniture industry
To strengthen the innovation and competitiveness of SMEs in the Austrian-Hungary cross-border region operating in the wood-processing and furniture industries, this project has organised a range of innovation workshops on design and product development, along with networking events and joint marketing opportunities.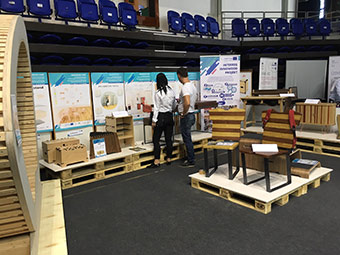 The Innowood project held innovation workshops on wood furniture design and product development, networking events and joint marketing opportunities. ©Effix-Marketing Kft/Abraham Imre (2018)
" The cross-border community-building effect of this project is outstanding. With the involvement of companies, students, and educational institutions, new, innovative wood architecture and furniture products are created, and new business relationships can be built. Furthermore, students are given the opportunity to enter a well-established labour market, while companies can get to know potential employees through joint work during product design processes and workshops. All of this in a cross-border aspect. "
The cross-border regions of Western Transdanubia in Hungary and Styria and Burgenland in Austria have robust wood and furniture industries. However, when it comes to R&D and innovation, the two countries have a rather weak track record for cooperation. 
To boost joint R&D in the field, this project established a cross-border network where wood and furniture enterprises can share best practices, co-develop innovative products, consolidate manufacturing, and engage in joint marketing via a multilingual online sales platform. 
The end goal of the project is to harmonise cross-border resources to improve the overall competitiveness of SMEs 
Workshops and marketing 
One of the project's core outcomes was the organisation of 25 workshops that brought together Austrian and Hungarian SMEs and students to jointly develop innovative furniture and architectural concepts. These workshops resulted in the production of 11 prototypes and two wood architecture concepts being selected for further development. To help companies sell these innovative products – along with their own products – the project will launch an online marketing and sales platform in September 2019. 
Unprecedented opportunities

In addition to the workshops and online platform, the project arranged a number of cross-border company visits and exchanges. These proved to be an excellent way for companies to not only learn new ideas for R&D and innovation, but also to network and lay the groundwork for future collaboration. The project conducted an in-depth study of the cross-border region's overall inventory, providing advice on how to best leverage strengths and mitigate weaknesses.
As a result of all these initiatives, SMEs and students working in the wood and furniture industries have a powerful new platform offering unprecedented opportunities for networking, events, training, co-development, marketing, and communication.
Videos
Total investment and EU funding
Total investment for the project "InnoWood" is EUR 989 281, with the EU's European Regional Development Fund contributing EUR 840 889 through the "Interreg V-A - Austria-Hungary" Cooperation Programme for the 2014-2020 programming period. The investment falls under the programme's priority "SMEs competitiveness".
Draft date
04/10/2019
Related themes
Contact
Managing Authority
Regionalmanagement Burgenland GmbH
Marktstraße 3, A-7000 Eisenstadt
Beneficiary
Effix-Marketing Kft.
Malompatak 13
9400
, Sopron
Magyarország
Web