HyMoCARES: Keeping Alpine rivers clean and competitive
The HyMoCARES project seeks to secure the conservation of Alpine river ecosystems and ensure they remain viable places to visit, work and live. The transnational project brings together alpine actors involved in promoting sustainable river management.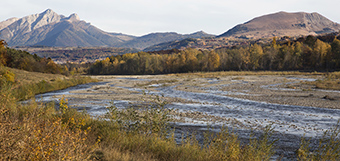 Alpine river ©Bruno Boz
" HyMoCARES is making clear how managing water and sediments in Alpine rivers affects ecosystem services, thus the quality of life of riverine populations, and providing effective solutions to improve current management approaches. "
Alpine rivers are treasured natural features and provide a number of benefits to surrounding communities. Thousands of people visit these areas every year, and many industries and townships are located on the waterways. From crop irrigation to hydroelectric power, waterways deliver critical resources to industry, agriculture and resident populations.
However, extensive human use and modifications have severely affected these rivers' hydromorphology – their content, shape and boundaries.  These characteristics play a key role in habitat maintenance and ecological connectivity. Such adaptations are closely linked to societal challenges such as flood risk mitigation, renewable energy production and ensuring the recreational value of Alpine valleys.
Some rivers are suffering from significant degradation, partly as a result of tourism and industry, with urgent action needed to safeguard their health.
Transnational research for healthy rivers
HyMoCARES will develop a transnational conceptual framework and a series of operational tools to integrate ecosystem services into river basin planning and management, with a focus on factors affecting hydromorphology.
The project will identify the most effective ways to apply the concept to rivers in the region and will target methodological gaps, supported by end users and case studies from various Alpine contexts. This will directly contribute to improving the protection, conservation and ecological connectivity of Alpine freshwater ecosystems, with the goal of ensuring river basins remain healthy.
HyMoCARES is providing comprehensive practical guidance about conservation to individuals, businesses and government agencies. Developing a framework that can be transferred to all Alpine countries and implemented in national and regional plans involves cross-border relationships, so the project will create a transnational network of subjects in charge of river management, capitalising on the most interesting initiatives in different countries.
A holistic view of river management
Issues surrounding degrading river health have often been identified, with restoration and conservation approaches either implemented or planned. The project therefore also seeks to provide evidence of how these approaches may affect services already in place, taking a holistic view of river basin management and sharing information between all partners to ensure best practice.  
HyMoCARES aims to offer guidance and adaptive solutions to many of the complex issues facing those working and living in the Alpine River regions, including hydroelectric plants and NGOs. It also offers the hope that ecosystem services can continue to provide vital services, while understanding that forward thinking is required to ensure the ecosystems' continued health.
Total investment and EU funding
Total investment for the project "HYMOCARES - HydroMorphological assessment and management at basin scale for the Conservation of Alpine Rivers and related Ecosystem Services" is EUR 2 596 648, with the EU's European Regional Development Fund contributing EUR 2 103 433 through the "Interreg - Alpine Space" Operational Programme for the 2014-2020 programming period.
Draft date
22/02/2019
Related themes
Contact
Managing Authority
Land of Salzburg (Austria), represented by the Government Office of the Land Salzburg, department 1 for Economy, Research and Tourism, unit 1.1
Südtirolerplatz 11, 5010 Salzburg
Beneficiary
Civil Protection Agency
Piazza Silvius Magnago 1
39100
, Bolzano
Italia
Web