EU & outermost regions
The European Union (EU) counts nine outermost regions, which are geographically very distant from the European continent. These are French Guiana, Guadeloupe, Martinique, Mayotte, Reunion Island and Saint-Martin (France), Azores and Madeira (Portugal), and the Canary Islands (Spain).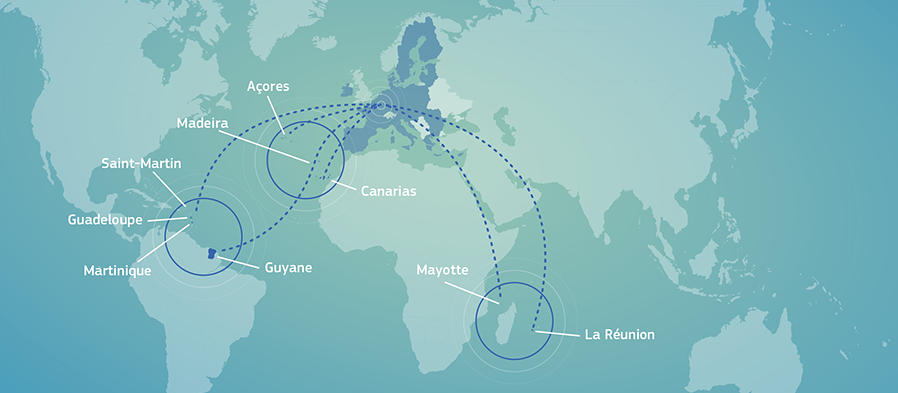 The outermost regions are islands, archipelagos and one land territory (French Guiana). They are located in the western Atlantic Ocean, the Caribbean basin, the Amazonian forest and the Indian Ocean. In total, they are home to 4.8 million citizens.
Despite the thousands of kilometres separating them from the European continent, these regions are an integral part of the EU. Therefore, EU law and all the rights and duties associated with EU membership apply to the outermost regions. However, in accordance with Article 349 of the Treaty of the Functioning of the European Union (TFEU), specific measures and derogations in EU legislation help these regions address the major challenges they face due to their remoteness, insularity, small size, difficult topography and climate, and economic dependence on a reduced number of products.
The outermost regions have unique potential and distinctive assets that can benefit the EU as a whole. They provide a European presence in strategic areas of the world and have exceptional characteristics that make them excellent laboratories for research and innovation in biodiversity, terrestrial and marine ecosystems, renewable energies, pharmacology and space sciences.
The specific status granted to the outermost regions under Article 349 TFEU has led, since 2004, to European strategies that seek to address the challenges these regions face and to help explore their assets. The implementation of these strategies is based on a strong partnership between the European Commission, the outermost regions and their Member States (France, Portugal and Spain). The European Parliament also takes part in this partnership through a cross-party group of nine Members of Parliament representing the outermost regions. The European Council convenes a specific working group for the outermost regions when necessary.
A European Strategy for the outermost regions
The implementation of the 2017 strategy to date
1. Implementing the strategic partnership with the outermost regions
2. Outermost regions in Commission proposals for EU programmes 2021-2027
3. Other initiatives put forward by the Commission
4. Financial support for the outermost regions
Videos
Events
Key documents