REACT-EU: more than €336 million for Croatia, France, Germany and Greece for a fair, green and digital recovery
22/07/2021
The Commission has granted an additional financing of more than €336 million to Croatia, France, Germany and Greece to help them deal with the economic and social impact of the coronavirus pandemic and boost a fair green and digital recovery.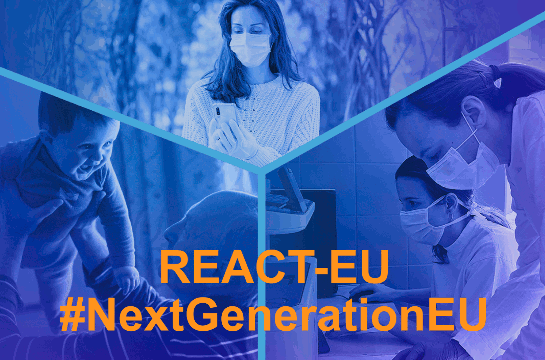 The additional money is granted under REACT-EU to tops up six operational programmes (OP) of the European Social Fund (ESF), the European Regional Development Fund and the Fund for European Aid to the Most Deprived (FEAD) .
In Croatia, the FEAD OP will be reinforced by an additional €10 million to provide continued aid to the most deprived, including those hit by the coronavirus pandemic and the two devastating earthquakes in 2020. These vulnerable people will receive food support like warm meals and basic material goods such as hygiene products and school supplies.
In France, the Interregional ERDF OP in the Loire region will receive an additional amount of €6 million. The entirety of these allocations will support the greening and digitalisation of the economy.
Moreover, in the French overseas territories of Guadeloupe and Saint-Martin, the joint ESF and ERDF OP will receive an additional €50.3 million. The new funds will support education and training for children and students, and help strengthen the skills and support employment of young people and people in jobs particularly hit by the pandemic. In Saint-Martin, the additional funding will also allow for investments in the green transition, support to tourism, digitalisation of services, including education, and the strengthening of the health sector.
In Germany, the ERDF OP in Saxony will receive €115 million that will be allocated to vaccination centres, support to testing as well as to investments in IT infrastructure, digitalisation and medical equipment for university hospitals.
Moreover, a new multi-fund OP for the region of Mecklenburg-Vorpommern will provide additional €56.5 million for investments in two university hospitals, in the tourism sector, in support for Small and Medium-Sized Enterprises and in the integration of long-term unemployed and young people in the labour market.
In Greece, an additional €100 million for the 'Public Sector Reform' OP will help strengthen the country's public health system and improve citizens' access. These funds will support a mobile network of nurses to relieve hospitals in the health crisis, improve remote home care services for chronically ill people, and support mental and physical health services for health care workers.
REACT-EU is part of NextGenerationEU and provides €50.6 billion additional funding (in current prices) over the course of 2021 and 2022 to Cohesion policy programmes. Measures focus on supporting labour market resilience, jobs, SMEs and low-income families, as well as setting future-proof foundations for the green and digital transitions and a sustainable socio-economic recovery.