Coronavirus pandemic: EU funds ensure fast production of protective equipment in Spain and Portugal
13/08/2020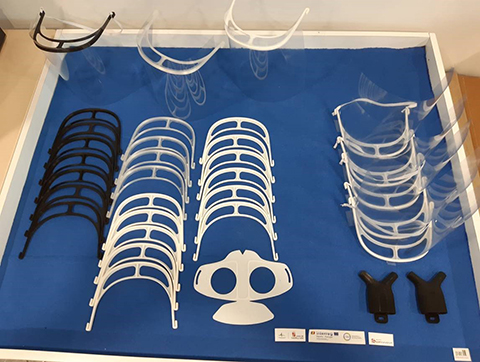 Fast mobilisation and reallocation of production resources has been key in tackling the constraints put on the medical systems by the coronavirus outbreak. Three projects near the Spanish-Portuguese border managed to set up production facilities and deliver much needed protective gear in record time for the medical personnel.
Coat hangers turned into shields against the coronavirus
CIS Madeira and the Portuguese Innovation Centre, under the ValorNature project, aimed to value existing resources by obtaining new products with high benefit. In the context of the health emergency, they opted to manufacture protection screens. They produced more than 15,000 protective screens made from 10,000 recovered wooden hangers, which they donated to the Galician Health Service and to social entities to protect professionals who are on the front lines of the fight against the coronavirus.
ValorNature is co-financed by the European Regional Development Fund (ERDF) through the Interreg Spain-Portugal programme (POCTEP) 2014-2020.
Protective equipment made in the library
The Library of Valdelacalzada, within its Read Maker Space, produced supports for protective visors. The library and its Read Maker Space are part of the NUBETECA programme, a hybrid library model implemented within the 1234Redes_CON project, co-financed by the ERDF through the Interreg Spain-Portugal program (POCTEP) 2014-2020. NUBETECA looks to guide the development of new services that allow reactivating the use of library infrastructures by people from the Spanish-Portuguese cross-border territory.
Circular lab to the rescue
The circular laboratory located in the Valladolid Environmental Proposals building, part of the Circurlabs project, was converted during confinement to produce protective screens and ear protectors for health workers. The laboratory delivered 85 protection screens, 3 valves for respirators and 70 ear protection strips to the Clinical Hospital of Valladolid, the Río Hortega Hospital in Valladolid, the Health Centre of Palencia and the Río Carrión Hospital of Palencia. All the material was produced with plastic of 100% vegetable origin through the 3D printing technique.
The Circurlabs project is co-financed by the ERDF through POCTEP 2014-2020.