Panorama 69: Bringing fast internet to Europe's regions
16/07/2019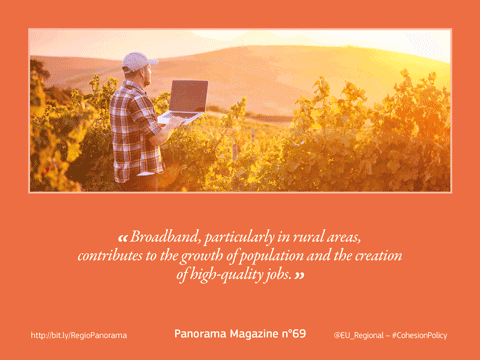 The economic competitiveness of regions, and notably rural regions, depends on good connectivity. This means not just roads and railways, but also internet highways.
In the words of Rudolf Niessler, Director for Smart and Sustainable Growth at DG REGIO: 'Broadband, particularly in rural areas, contributes to the growth of population and the creation of high-quality jobs'. It is paramount, therefore, that rural areas are not left behind.
The digital gap
However, the statistics show that despite significant efforts by the EU and most Member States, the gap between rural and urban connectivity remains. Connectivity in Europe had grown steadily over the last few years, reaching over 80 % of the population. But, if we disaggregate the data, we can see that this percentage drops to less than 50 % in rural areas, and the gap does not appear to be closing in order to reach the objectives of the Digital Agenda by 2020.
The action plan for rural broadband
In light of the above, the European Commission has put in place an Action Plan for Rural Broadband. A crucial aspect of this initiative is the cross-services approach between different European Commission services dealing with regional development, rural development and digital policy.
The action plan has six components, all aiming to ensure that broadband is brought to rural areas:
Setting up the Broadband Competence Offices (BCO) Network.
Deploying 'broadband missions' to Member States and regions with low levels of rural broadband coverage.
Designing a common methodology for planning, reporting and monitoring broadband investments.
Introducing a rural proof test.
Updating the European Commission's guide to high-speed broadband investment.
Designing a rural broadband framework to help implement broadband investment in rural areas.
The European Broadband Competence Offices Network
As a first step, the European Commission is supporting the growth and expansion of the Broadband Competence Offices Network. The collaboration and engagement of the different administrations should help overcome some of the hurdles encountered in many regions concerning the administrative capacity and expertise on broadband. One crucial element is to connect the BCOs with rural stakeholders. Indeed, a recent survey has shown that less than 20 % of them are in touch with the Rural Development Network in their country. Only by connecting BCOs to the main actors dealing with specific hurdles encountered at rural level can the digital divide be addressed.
What is the BCO Network?
The European Commission called
on Member States to create a network of Broadband Competence Offices to address common issues.
They should act as single points of contact on broadband issues, notably:
• Regulatory
• Technical
• Finance
BCOs are established in all Member States, and many regions. Consult the BCO Network Directory here.
In 2019, DG REGIO and DG AGRI will introduce a rural proof test. This will imply that any Managing Authority wishing to reprogramme EU funds that had originally been foreseen for broadband will need to prove that rural coverage will be ensured in some other way. This will ensure that funds are not taken away from the areas with the greatest need simply because 'they are challenging'.
The European Commission is currently working on two guides that will give project planners and investors concrete guidance on developing their broadband projects: an updated Broadband Investment Guide and a guide on rural investments, due to be published in the second half of 2019.
Next steps
The rural-urban digital gap is a reality that will not be overcome in the short term. Thus, the European Commission remains committed to supporting Broadband Competence Offices throughout the EU and to allocating resources in the coming financial period. This will be done notably through the European Regional Development Fund and Connecting Europe Facility but also through new instruments such as the Connecting Europe Broadband Fund (CEBF) or InvestEU.
Member States and regions must now ensure that they have the structures and support schemes in place to enable their rural areas to secure the support they need.
FIND OUT MORE
Action Plan: https://europa.eu/!hW99FV
Panorama 69: Moravia-Silesia emerges from its industrial past