Commissioner Creţu reflects on Cohesion Policy achievements during her mandate
29/04/2019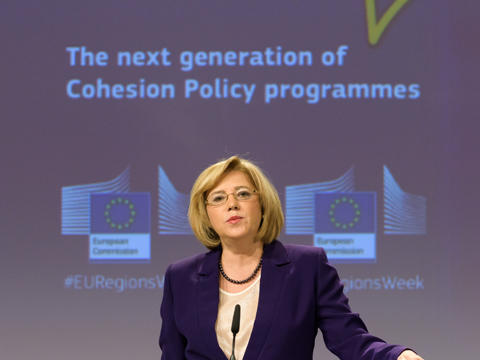 As the Commissioner for Regional and Urban Policy, Corina Creţu nears the end of her term in office, she highlights some of the key successes of Cohesion Policy across the EU regions and looks to future opportunities for it to make a significant difference as a central pillar of the European project.
The Juncker Commission has committed to delivering in many areas over the last five years. What are the three key Cohesion Policy achievements you are most proud of?
I am proud of the numerous achievements accomplished during my mandate as Commissioner for Regional Policy. By funding hundreds of thousands of projects across Europe, Cohesion Policy ensures that every region, city and village can benefit from the European project. It is a strong, direct link between the EU and its regions and cities, which is crucial at a time when populism and Euroscepticism can be tempting answers for some citizens.
The Task Force for Better Implementation helped eight Member States (Bulgaria, Croatia, Czechia, Hungary, Italy, Romania, Slovakia and Slovenia) to make swift and good use of remaining Cohesion Policy funds from the 2007-2013 budget period, which otherwise might have been lost and thus would not have served their purpose, which is to generate growth and job creation. Later, the Task Force also concentrated on implementation of the 2014-2020 programmes, in particular by supporting administrative capacity and learning the lessons from the past.
The High Level Group on Simplification, which we set up between July 2015 and November 2017, showed that you can drastically simplify the rules while keeping high standards in terms of the sound management of EU funds. This also contributed to the proposal for a better Cohesion Policy in the next EU budget period which starts in 2021. Among the outcomes of this Group, the Commission has already proposed more favourable treatment for SMEs investing in research and innovation, and the Commission's legislative proposal for the post-2020 is 50 % shorter than the current legislation.
Both the 'Catching up' and the 'coal regions in transition' initiatives highlighted the need for a custom-made approach to industrial transition and economic modernisation so that all regions can hold their own in a globalised world.
With the 'catching up' initiative, we are helping low-income regions to overcome obstacles to growth related to the macroeconomic framework, structural reforms, governance and investment as well as EU (ESI) Funds. In particular, we have helped two types of regions: 'low-growth regions' – that are characterised by a persistent lack of growth over the last decade or more (mostly in Southern Europe); and 'low-income regions' – whose GDP is on the rise but which remain very poor. Under this initiative, we have four pilot regions, two in Poland and two in Romania, leading to some significant structural changes there. The second phase of this initiative is currently under way in new regions and with new themes, such as energy efficiency with the so-called 'coal regions in transition' and the industrial transition. At the beginning of 2018, the initiative was officially launched in two regions of Slovakia, focusing on their specific needs.
With the 'coal regions in transition' initiative, we are targeting seven countries (Poland, Germany, Czechia, Romania, Bulgaria, Greece and Spain) where coal is still an important energy and employment source to support them in the shift to modern and cleaner energy efficiency. The coal sector currently employs about 237 000 people in seven countries. Experts interact closely with those regional and national authorities interested in participating to develop pragmatic solutions to support the structural transformation process with flexibility. The programmes already include support, for example, for SMEs, innovation, low-carbon transition, social inclusion and for overall societal transformation and modernisation. The total Cohesion Policy funding available for the corresponding regions is estimated at around EUR 20 billion for the 2014-2020 period. We have, for instance, agreed with the Czechia authorities to specifically re-allocate EUR 232 million to coal regions in transition. Similarly, as a follow-up to several missions in Poland, we are now supporting six flagship projects in Silesia with a total of EUR 100 million.
More generally, I think we can all be immensely pleased with the amount and effectiveness of European Structural Investment Funds. According to the latest information available on the Open Data platform, EUR 405 billion had been invested in Europe's real economy from these EU funds by the end of September 2018. That represented nearly two-thirds of the ESIF's budget invested halfway through the 2014-2020 EU budget period.
Leading Cohesion Policy means working closely, every day, with stakeholders at various levels: national, regional and local. How have you worked with them?
Due to the direct link Cohesion Policy creates with stakeholders, I have had the chance to see the impact of EU-funded projects in the Member States. During my mandate, it has also been important for me to discuss the challenges and opportunities with managing authorities and direct beneficiaries. I have been especially keen to consult local stakeholders on specific issues, such as discussing immigration with mayors, industrial transition with regional presidents, etc. I have also been keen to foster relations with countries and regions outside of the EU to build relationships and share best practice. In this context, I found my official visits to Quito in Ecuador – for the World Urban Forum Habitat III – and to Kuala Lumpur (Malaysia) and China very interesting and fruitful.
How has the way we manage and communicate Cohesion Policy changed, and are we getting closer to the citizens?
Unfortunately, we are currently witnessing an increase in anti-EU and populist support across the continent and beyond, as the recent DG REGIO study on anti-EU voting showed. Inequalities are certainly linked to this phenomenon as people feel their institutions do not respond appropriately to their needs and demands for more rights and better well-being.
Cohesion Policy is crucial in addressing this issue. As the name suggests, Cohesion Policy is about solidarity and prosperity for all. It ensures that every region, city and village can benefit from the European project and can aim at higher standards of living thanks to the support of Cohesion Policy.
Sadly, this is not always easy for everyone to see. For example, a new EU-funded highway in the regions should be correlated with the new job opportunities appearing there. It is indirect effects like this, in particular, that many people do not see.
The best way to tackle Euroscepticism is to show citizens that the EU brings them a lot of benefits; and that we have very good stories to tell. We have several communication activities that aim at making our policy more visible among citizens: campaigns, including on social media, projects and events, such as Citizens' Dialogues.
Let me mention, for example, the 'EU in my Region' campaign where last year over 2 500 projects from 27 countries opened their doors to more than 450 000 visitors to showcase their EU co-funded projects.
Also, the 'Road Trip Project' is an initiative that provides young Europeans with an opportunity to experience first-hand what EU solidarity stands for and what it does on the ground. It is a project-related journey throughout Europe where the participants act as ambassadors for a variety of projects and initiatives enabled by the EU. During 4 months in 2018, the 8 travellers crossed more than 20 countries, visited over 50 EU co-funded projects and produced more than 60 video stories which have been viewed 22.8 million times.
How do you see Europe and Cohesion Policy in 10 years?
Cohesion Policy will continue, in cooperation with other EU instruments, to be the most effective, place-based, policy for tackling such challenges. In this respect, the Commission has proposed a revised design framed around a few core principles.
Programmes will be more flexible and adaptable through a lighter programming menu, easier modification and a systemic mid-term review of programmes in 2025. Focusing resources on key EU priorities (innovation and climate) with fewer and more operational enabling conditions will ensure effectiveness. And the policy will become more strategic by better aligning it with the European semester
Simplification, through a set of around 80 measures, is designed to accelerate the effective take-up of implementation and sharply reduce the administrative burden on managing authorities and beneficiaries. In particular, cancellation of the procedure for designating management and control bodies, extended recourse to simplified cost options, abandonment of the major project procedures and a sharp reduction in management verifications are all expected to bring substantial benefits
With continued political support, I see Cohesion Policy as being a central pillar of the European project, both in terms of concrete improvements to citizens' lives, but also in terms of fostering solidarity and the sense of European identity.
Do you have a last message for Panorama readers?
My message is simple: thank you! Your dedication, imagination and hard work are extremely valuable and definitely contributed to the success of our policy. So, thank you for being part of our team and for making my work not just more visible, but also much easier and more enjoyable over the past five years! I wish you all the best for the future!
Panorama 68: North-West Romania going in the right direction