Panorama 67: Less is more!
08/01/2019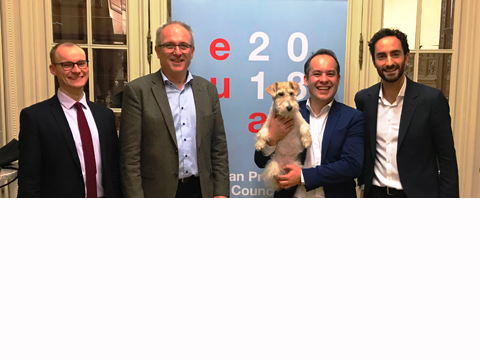 An interview with the Austrian EU Presidency team on the state of negotiations in the Council, on their approach to simplification – and on four-legged support
On 31 December, the Austrian Presidency of the Council of the EU came to an end. With the Commission proposals for Cohesion Policy post-2020 published only a month before the start of the Presidency, Austria and its negotiators played a central role in setting the scene for discussions in the Council. Panorama talked to their Brussels-based team, Johannes Rossbacher, Alexander Ferstl and Christoph Klemencic.
Where do you stand with the legislative package for 2021-2027?
Johannes Rossbacher: We are very well on track, I must say. We are close to reaching an agreement on key chapters of the common provisions regulation. And the ERDF regulation is nearly finished on the Council's side. With five legislative proposals on the table, our Council working party did its best to make fast and far-reaching progress.
What was your approach for the negotiations?
Alexander Ferstl: To start with, we were convinced that the Commission proposals are reasonable and a real step forward in terms of simplification. With this in mind, we tried to limit changes to the proposed legal text. We believe that not everything needs to be regulated – and in that sense, less is more!
And did you succeed?
Christoph Klemencic: Yes, I think so. We kept the simplification elements which the Commission proposed – and went even further. Let's take the example of the partnership agreement. Why should a Member State with a small budgetary allocation or only one multi-funds programme need to go the extra mile to write such a document? Our proposal to skip this extra step in certain cases was also agreed by ministers at the Council on 30 November.
Is there an agreement on the budget?
JR: Discussions on the multiannual financial framework will be concluded at the highest level. We worked – and are working – on getting the implementation modalities right. We prioritised those elements in the regulations which our programme authorities in the regions need for their future programmes. So, once the decision on the finances has been taken, we can easily create links.
So, what are these elements?
AF: Everything concerning audit and control, programming and planning, as well as conditionalities and performance. I know this doesn't sound too sexy, but managing authorities need to know what to expect – and to start setting up their implementation structures for future programmes. With this strategy, we hope to gain precious time and ensure a rapid start for the programmes. Things should start moving in 2021, not in 2022 or 2023.
Looking back over the past six months, what were the key challenges in the negotiations?
CK: I would say that we had to find compromises between all sorts of fractions: the net-payers and the net-receivers, the different approaches in the west, east, south and north – and sometimes very different opinions regardless of these two aspects. Our role as the Presidency was to be an independent broker and to build bridges. Then again, this didn't mean that we always made everybody happy at all times.
JR: Striking a compromise is never easy. You probably know that you have a good compromise on your hands when everybody around the table is a bit happy and a bit unhappy at the same time.
What's next in the negotiations?
AF: In January, our colleagues from Romania will take over and continue with the high pace we set. With one to two working party meetings per week and a pretty similar approach, you can expect further, fast progress in the coming months. After an agreement in the Council, the trialogue phase will start. I am convinced that the Council, Commission and Parliament are not that far apart in their views.
On a more personal note, how was the Presidency work?
JR: This was my third Austrian Presidency, so I knew what to expect: long hours, meetings on Sundays and very intense teamwork. And honestly, we could not have managed without wonderful support from Vienna, great colleagues in the Council secretariat, our 'all-rounder' Paul – and additional help from Alexander's dog!
A Presidency dog?
AF: Yes, my dog was with us most of the time. Elvira – that's her name – kept up spirits and always managed to take our minds off the regulations for a few moments. This clearly helped during such a challenging period.
JR: Funnily enough, I was afraid of dogs before, but this has changed things completely. I will even miss Elvira's 'support' – a full team member!
You seem to have had fun!
CK: Oh, absolutely! My highlight: on one occasion, a Council colleague didn't understand our chair's name well – and then called him 'your highness' instead of 'Jo-hannes'. Very presidential, I must say.
AF: Not forgetting our Croatian colleagues who got into yodelling! We organised a short training session during our opening reception – and they still know how to do it! Pretty impressive…
JR: Fun certainly helps with a mammoth task like an EU Presidency, that's for sure!