Climate change adaptation of major infrastructure projects
05/12/2018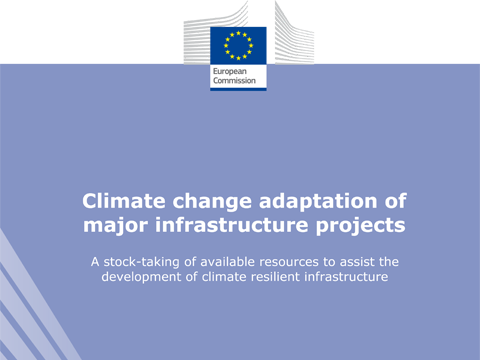 Recent extreme weather events have reminded us all that climate change can harm in many ways and it does. Have you ever thought after a very big windy storm, flash flood or forest fire, what happens if the road that would lead you to the first hospital is blocked, the hospital was damaged and basically you are left on your own? Would you not expect that this entire infrastructure, when planned, included also some climate change mitigation measures? We assume you do.
Do you know that European Union funds have helped Member States to build or modernize an important part of this infrastructure and presently investments financed by the European Regional Development and Cohesion Funds have to ensure also climate change mitigation measures?
In order to see what is available for the Member States to best ensure climate adaptation, the Commission services (The Directorate General for Regional and Urban Policy) commissioned a study mapping the information availability for climate change adaptation in the 28 Member States, information that could facilitate the assessment of climate change aspects at project level.
The study covers the 2017 situation and looks at 7 study criteria: data availability, guidance, methodologies, tools, design standards, system and legal framework and institutional capacity. It covers the transport, broadband, urban development, energy, water and waste sectors.
The study's final report includes a general and a country-specific part with project examples for each Member State. The information is structured in such a way as to facilitate selective reading. If you are interested in only one sector you can read through the whole report and see what is available in that section in each Member State. If you, however, wish to know what is available in your country only, you can read only your country report, available in one of the annexes. If you would like to see specific projects you can do that, too.