Panorama 66 - Flying fast and high, together.
09/11/2018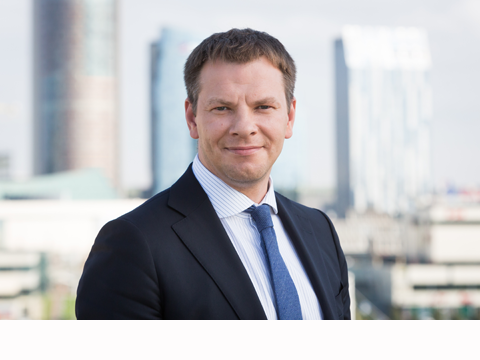 Vilius Šapoka, Minister for Finances, discusses how Lithuania is using EU investments to support competitiveness and productivity
Lithuania is making good use of the EU funds for 2014-2020. What are the highlights and benefits to Lithuanians?
Our main priority today is to enhance national competitiveness and productivity. We are investing more in R&D, innovation, SME's, and IT development. Together with EU investments we have attracted EUR 463.8 million of private investment to support national enterprises. Due to investments in IT infrastructure we also have one of the fastest internet speeds in the world.
My vision is for Lithuania, for some already known as 'Li-tech-nia', is to be the most favourable tax environment for high-tech investments and development. This means well-paid jobs and a leading role for our country in financial technologies, lasers, renewable energy, biotechnologies and development of Fintech companies. Lithuania is certainly not too small to be this kind of leader – size is not as important as talented people, openness to new ideas and a clear vision. In this context, I recall a story about a caring mother, who wishes to her son to fly safely –low and slow. Neither the young pilot, nor Lithuania want this. If you want really to fly – you have to fly fast and high!"
Such a Lithuania I see in the future – a brave country with intelligent, educated people, flying fast and high and sharing.
How is cohesion policy reaching Lithuania's real economy, strengthening business competitiveness and job creation?
From 2014 to 2020 we are allocating EUR 1 billion to promoting entrepreneurship and business development; business productivity; innovation and research; transnationality; export and business development in the regions; lower energy consumption in industry; and competitiveness of human resources. We are also supporting companies to invest in new production technologies, process innovation and digitalisation, in the transition to 'Industry 4.0'.
Despite significant ERDF co-investment in research and innovation, Lithuania is lagging in productivity growth. What are the measures the Government is taking to address this issue?
According to primary data for 2017, Lithuania's nominal output per one actually worked hour grew at the most rapid pace (11.0 %) among all EU Member States. We rank 16 out of 190 countries in the World Bank's 'Doing Business 2018'. Our 2016-2017 reform improved business conditions. A new tax system from 2019 will be very favourable for economic growth and for attracting foreign companies to Lithuania. By 2021, labour force taxation in Lithuania will be the most competitive among the Baltic states. For development of financial technologies, we have created an attractive and flexible regulatory environment.
EU investments are allocated to each stage of the innovation cycle. We are also using EU investments for more active public sector cooperation with business.
An innovative approach to the European Structural and Investment Funds has meant the use of revolving funds and other financial engineering instruments. Can you give us an example of blending in Lithuania, i.e. use of various funds and forms of financing to address a particular issue?
We continue to develop our financial instruments. We allocated EUR 224 million of EU funds to help businesses to access finance, especially for investments in corporate capital. Measures to establish a better regulatory environment include government-financed assistance for foreign investors, the Blue Card scheme, the Start-up Visa initiative, and the latest Labour Code of Lithuania that grants more flexibility both to business and employees. To modernise housing for greater energy efficiency, we issued government securities (green bonds) and allocated EUR 500 million of EU assistance through financial instruments.
Lithuania has achieved an impressive convergence towards the EU average GDP per capita at the same time as disparities between the Lithuanian regions remained the same or even increased as compared to the situation before EU accession. What are your views about this phenomena? What measures the Government is taking to revert this trend?
We are developing regional specialisation strategies, based on analysis of strengths and weaknesses, to attract businesses and people into the regions. EU investments helped us to create a good quality infrastructure, we want to encourage municipalities to use it as effectively as possible to create new jobs and attract new investments. So we are planning to introduce a new financial incentive system for municipalities, as well as a new methodology for planning investments.
How can the Lithuanian administration contribute to the common goal of simplifying cohesion policy for authorities and beneficiaries?
First, it is necessary to review regulations at EU level. At national level, we review, simplify and optimise the administration processes for institutions and beneficiaries. We also use highly advanced IT solutions that reduce administrative burden and simplify project implementation.
Looking at the next ESIF funding period 2021-2027, how do you see cohesion policy priorities and delivery mechanisms evolving in Lithuania?
We have to continue investments in human capital (education and skills), innovation and R&D, health, collaboration between business and research sectors and other areas in order to achieve inclusive growth of our country and to catch up with the EU average. Cohesion policy with adequate financial allocations and co-financing obligation that reflects the economic reality of a country is crucial to achieve these goals. It is necessary to further enhance results-orientation, flexibility, proportionality and simplification of Cohesion Policy.