EU solidarity at work: Commission offers financial aid to Latvia following intense floods
20/07/2018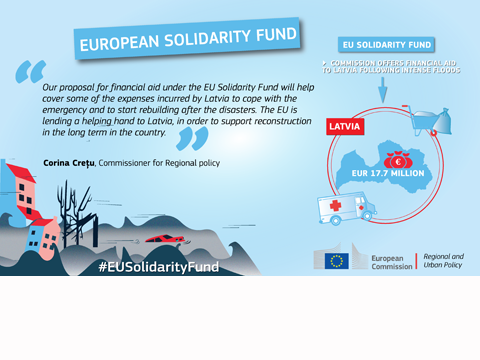 The Commission is proposing €17.7 million from the EU Solidarity Fund for Latvia after the country was hit by intense floods in the summer and autumn of 2017. The disaster caused widespread damages to essential water, road and railway infrastructure and destroyed crops.
Commissioner for Regional policy Corina Creţu said: "Our proposal for financial aid under the EU Solidarity Fund will help cover some of the expenses incurred by Latvia to cope with the emergency and to start rebuilding after the disasters. The EU is lending a helping hand to Latvia, in order to support reconstruction in the long term in the country."
Money from the EU Solidarity Fund can be used to support reconstruction efforts and cover some of the costs of emergency services, temporary accommodation, clean-up operations and the protection of cultural heritage, in order to relieve the financial burden borne by national authorities in the wake of natural disasters. The Commission's proposal now has to be green-lighted by the European Parliament and the Council.