Interreg project PEACE_Alps wins the EU Sustainable Energy Week Award 2018!
07/06/2018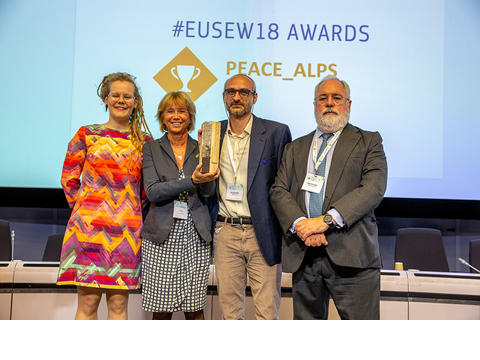 The Interreg Alpine Space project PEACE_Alps has won the EU Sustainable Energy Week Award 2018 in the public-sector category.
Project lead partners Silvio De Nigris and Barbara Girardi from Region Piedmont were on stage on 5 June 2018 in the Charlemagne Building in Brussels, to receive the award from the hands of Miguel Arias Cañete, Commissioner for Climate Action and Energy. Silvio de Nigris thanked the project partnership: "Behind a cooperation project there are people. We can reduce carbon footprint by working with people who are determined to make change happen".
The PEACE_Alps project supports Alpine authorities in making the transition to a low-carbon area. The project is key to helping authorities overcome any barriers in implementing their strategic action plans - Sustainable Energy and Climate Action Plans (SECAPs). Although SECAP actions are local, teaming up in cross-border cooperation has helped to provide centralised technical assistance for all authorities.
The EU Sustainable Energy Awards recognise outstanding innovation in energy efficiency and renewables. Nominees/finalists are chosen from a shortlist of the year's most successful projects for clean, secure and efficient energy. With prizes awarded by an expert jury and European citizens, the Awards competition highlights new ways to shape Europe's energy future.
Photo copyright: European sustainable energy week