Routes4U Project: Fostering regional development through Cultural Routes
16/05/2018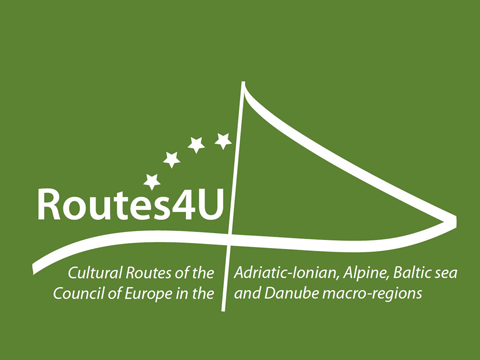 Routes4U Project aims to enhance regional development in the Adriatic-Ionian, the Alpine, the Baltic Sea and the Danube regions through the Cultural Routes certified by the Council of Europe. The 30-month project (2017-2020) has been launched in the framework of the joint programme between the Council of Europe (DGII – EPA on Cultural Routes) and the European Union (European Commission, Directorate-General for Regional and Urban Policy).
The four EU macro-regions, covering 27 countries (19 EU Member States and 8 non-EU countries), are crossed by 25 transnational networks certified "Cultural Route of the Council of Europe" such as the Santiago de Compostela Pilgrim Routes, the Phoenicians' Routes, the Hansa and the Olive Tree Routes. The Routes4U Project contributes to cultural cooperation and provides a transnational platform for regional and national stakeholders. In line with the Faro Convention (Council of Europe, 2005), the project also promotes the importance of local citizens and their strong connection with their heritage in the creation of a common European narrative.
Routes4U implements activities for the four EU macro-regions related to cultural heritage and sustainable tourism in view of regional development. Among the highlighted activities: Research and guidelines on sustainable cultural tourism, a digital platform to discover Cultural Routes landmark sites and less-known destinations in the EU macro-regions and the assistance of new cultural routes projects in view to the certification "Cultural Route of the Council of Europe".
More information: www.coe.int/routes4u