Maintaining the traditional while investing in the future
16/04/2018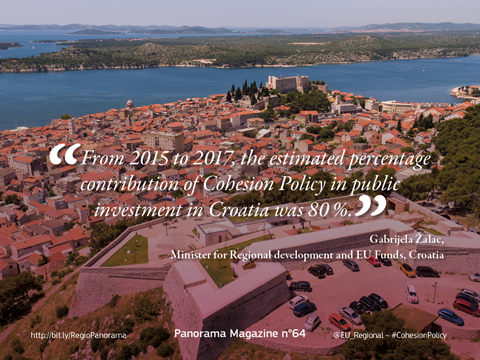 During the programming of the new Multiannual Financial Framework for Croatia, it is particularly important that the status of traditional policies – Cohesion Policy and the Common Agricultural Policy – is retained. The Ministry of Regional Development and EU Funds, Gabrijela Žalac, explains Croatia's position in relation to the future of the Cohesion Policy beyond 2020, presenting the country's position and clearly setting out its priorities.
I believe it is essential that Cohesion Policy remains an effective tool for the EU which will continue to reduce significant economic, social and territorial disparities and strengthen the global competitiveness of the European economy. It enables economic growth and sustainable development and is considered a vital source of public investment in Croatia. Apart from active participation in EU institutions, Croatia is also part of the expanded Visegrád Group where it actively contributes to discussions about the future of Cohesion Policy.
From 2015 to 2017, the estimated percentage contribution of Cohesion Policy in public investment in Croatia was 80 %, which is very high compared to the EU-28 average of 8.5 %. This is a clear indication that increases in the national component of co-financing varies from country to country and that each Member State will react according to their circumstances.
National co-financing certainly contributes to all stakeholders' feeling of ownership. However, given the significant disparities in development between different countries and regions, any increase would not lend added value to the Cohesion Policy. Thus, we support maintaining the current minimum national co-financing rate in national European Structural and Investment Funds (ESIF) envelopes and contributions from national budgets.
Priority perspectives
As regards key elements of the future Cohesion Policy, I believe that prioritising investment is crucial. Croatia continues to strongly support the 'traditional' Cohesion Policy priorities, being funded under the current programming period, given that they hold the same interest for us post-2020.
In terms of the MFF, we support retaining the current seven-year duration since long-term predictability is a must because of the time needed to harmonise legislation and adopt operational programmes. Furthermore, the current N+3 rule is appropriate and an additional three years for the absorption of funds after allocation is optimal.
As regards Cohesion Policy implementation instruments, we support maintaining grants as the main instrument of implementation, although it is also necessary to consider evaluations that indicate financial instruments can be used efficiently, in particular in combination with grants in financially viable investment policy areas.
I would also like to note the importance of European territorial cooperation as an excellent platform for developing coordinated and strategic cooperation at all levels, with partners from other European countries and regions.
There is certainly a need to continue to recognise shortcomings, ensure synergy and complementarity between ESIF and other EU funds, and improve the effectiveness of Cohesion Policy implementation. Therefore, we expect a simpler transition between programming periods and a faster start to the new financial period to ensure continuity of investment.
Gabrijela Žalac, Minister for Regional
Development and EU Funds of Croatia
Panorama 64: Cohesion Policy: 30 years investing in the future of European Regions