A road trip by and for young Europeans
16/04/2018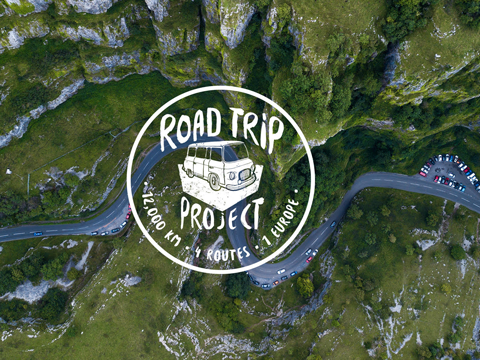 Eight young travellers will cross the continent to discover and share concrete examples of EU projects. The adventure started in Athens this weekend.
The Road Trip is organised in four routes covering the Mediterranean, the Baltic and the Atlantic coast, as well as the Danube. For each itinerary, two young travellers will spend a month visiting EU co-funded projects, as well as cultural and environmental sites. And they will share their experience through social media.
On Saturday, their van departed from the Acropolis in Athens. On board: Louis from Belgium, a social worker and rapper, and Luisa, a German pedagogue, the two members of the Mediterranean team. They will travel from Greece to France, and you can already see their first posts on the website of the project as well as the first 60 seconds video.
In the different stops, the travellers will meet with local influencers that will introduce them to the culture of that area. They will also meet some personalities, engage in volunteering activities and surely have other spontaneous encounters that will enrich their experience. Facebook, Instagram and Youtube will be the main communication channels.
The eight travellers are the winners of auditions made at the beginning of the year, among over 2,000 applicants.
The first team will reach its final stop, the French caves of Lascaux, on 12 May. A week later, the Atlantic team will start the journey in Cabo da Roca, Portugal. Yldau, from Amsterdam, and Fabian, an Ecuadorian living in Vilniius, will explore the cliffs and beaches of the Atlantic coast until they reach Rotterdam in mid-June.
Then, it will be the turn of Susann, from Estonia, and Kenneth, from Ireland, to get in the van and follow the Danube river, from Germany to Romania. The last route, from the end of July, will take Luna and Achilles, from Spain and Greece respectively, along the Baltic coast, from Rovaniemi in Finland to Berlin, final destination of the project on 25 August.
Accompanying the travellers, experienced cameramen will film the trip to produce a road movie about the whole adventure. Another outcome of the journey will be an alternative travel guide for young travellers.
A final event will gather all participants and regional bloggers in Brussels, in the framework of the European Week of Regions and Cities in October. Until then, you can already follow the adventure with them. Ready to hit the road?
Follow the Road Trip on Facebook – Instagram - Youtube