The Tyrol takes over the Presidency of the EU Strategy for the Alpine Region
09/02/2018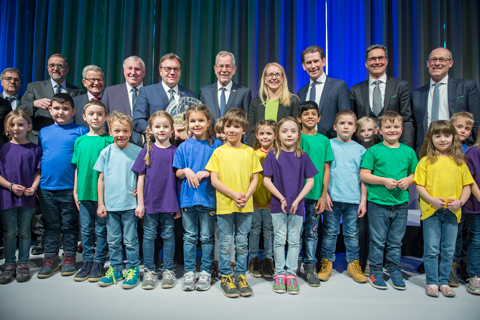 As of 1 January 2018, the Austrian region Tyrol holds the Presidency of the EU Strategy for the Alpine Region (EUSALP) under the motto shaping.future.together – in the Interest of Alps! The kick-off event of the Tyrolean Presidency took place on 7 February 2018 in Innsbruck/Igls, where Bavaria, who was chairing the Strategy in 2017, officially handed over the EUSALP presidency to Tyrol. In a very symbolic way, the Bavarian representative Michael Hinterdobler handed over the "Kolo wheel" to Günther Platter, the Governor of Tyrol, illustrating that now the Austrian region is in charge of giving direction to EUSALP's implementation.
The kick-off event was attended at very high level by the Federal President of the Republic of Austria Alexander Van der Bellen, the Federal Chancellor of the Republic of Austria Sebastian Kurz, Walter Deffaa, Special Adviser to European Commissioner Corina Crețu, in charge of Regional Policy, President of the European Committee of the Regions Karl-Heinz Lambertz as well as the governors of Auvergne-Rhône-Alpes, South Tyrol and Trentino, Laurent Wauquiez, Arno Kompatscher und Ugo Rossi.
In his speech Dr. Walter Deffaa, underlined the importance of macro-regional cooperation by emphasing that 'macro-regional strategies have an evident European Value Added. […] They should be modernised as the whole of Cohesion Policy.' Alexander Van der Bellen, Federal President of the Republic of Austria, in his closing speech reminded that the "EUSALP is bringing all seven Alpine countries together at an equal footing aiming to tackle challenges through cooperation based on friendship and mutual trust.'
Günther Platter underlined that the Tyrolean Presidency will focus on the thematic areas of mobility and connectivity. Other key topics include dual training, sustainable use of natural resources, disaster management and energy. The work programme of the Presidency is available here in five languages.
The Innsbruck meeting was also the occasion for Italy and France to announce their candidacy for EUSALP Presidency in 2019 and 2020, respectively.
…………………………………………………………………………………………………………………………………………………………..
The EUSALP is the fourth EU macro-regional strategy, adopted by the European Commission in 2015 and endorsed by the European Council in 2016. The Strategy covers a territory inhabited by 80 million people (16 % of the EU) and includes 48 regions in seven countries: Austria, France, Italy, Germany, Slovenia, Liechtenstein and Switzerland.
More information: