Baltic Sea Region a frontrunner in battling plastic waste in the seas
02/02/2018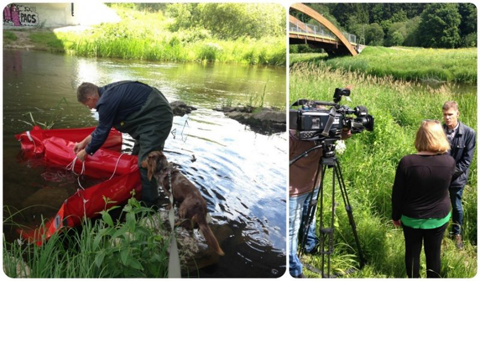 In January 2018, the European Commission adopted the first-ever 'European Strategy for Plastics in a Circular Economy'. The macro-regional EU Strategy for the Baltic Sea Region (EUSBSR) is already in full speed fighting against plastic marine litter. The BLASTIC project, an EUSBSR flagship under policy area 'Hazards', aims to reduce plastic waste and, thereby, the inflow of hazardous substances into the Baltic Sea by mapping and monitoring the amounts of litter in the aquatic environment. As a result, the project compiles a list of sources and pathways, as well as recommendations for resource efficiency in the waste and water sector. The methodology is implemented in 3-4 urban areas and the concept is further promoted in other areas. As a result of the project, the amount and inflow of plastic marine litter and hazardous substances into the Baltic Sea will be reduced.
How does the BLASTIC project contribute to the objectives of the EUSBSR?
"With the European Commission launching a 'Strategy for Plastics in a Circular Economy' just this January 2018 the project BLASTIC is already well on its way to support the implementation of this ambitious EU strategy by actively addressing a number of actions helping to reach the vision for Europe's new plastics economy. In BLASTIC, countries are engaging and cooperating to halt the flow of plastics into the oceans and taking remedial action against plastics waste already accumulated. Best practices are disseminated widely, scientific knowledge improves, citizens are mobilised and cities become cleaner. Furthermore the project is contributing to a better understanding of origin, routes of travel and effects on human health. BLASTIC is by all means a frontrunner project on the issue of plastics and marine litter and the Baltic Sea region again serves as model cooperation for the whole of Europe. This is why we, as policy area coordinator, see BLASTIC as a true flagship in the EUSBSR".
- Maxi Nachtigall, coordinator of policy area 'Hazards', Swedish Environmental Protection Agency
The BLASTIC project is co-funded by the Interreg Central Baltic Programme and it is led by Keep Sweden Tidy. Project partners include Keep the Archipelago Tidy Association (Finland), IVL Swedish Environmental Research Institute (Sweden), Tallinn City Government (Estonia), City of Turku (Finland), Stockholm Environment Institute Tallinn Centre (Sweden), and Foundation for Environmental Education Latvia (Latvia).
For more information see here.