Interreg project among finalists of European Health Award 2017!
26/09/2017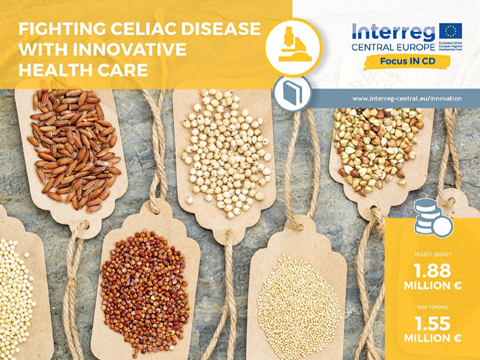 Interreg CENTRAL EUROPE project Focus in CD, together with other five projects, has been shortlisted for the prestigious European Health Award 2017. The award, established in 2007, honours initiatives aiming to improve public health or health care in Europe.
The Focus IN CD project with full name 'Innovative patient centred health care services – advantages of establishing a close CE network in coeliac disease patient health care' addresses specific issues of coeliac disease management. Under the lead of the municipality of Maribor Slovenia, it focuses together with 11 partners on the innovative potential in the public sector, better integration of social innovations into the healthcare system with the objective to bring the system closer to the patient, establishing an integrated treatment and ensuring healthy and active ageing of the population. The project will develop and test an innovative health service model to celiac disease, a lifelong digestive ailment that is underdiagnosed, and will gain data to develop e-learning tools for health care professionals (HCPs) and patients, to close existing knowledge gaps and to improve patient support.
The winner of the European Health Award 2017 will be chosen by a panel of leading health experts, and announced during the 20th European Health Forum Gastein, being held on 4-6 October 2017 in the Gastein Valley, Austria.
Detailed descriptions of six finalists are available here.