Eurostat regional yearbook 2017
14/09/2017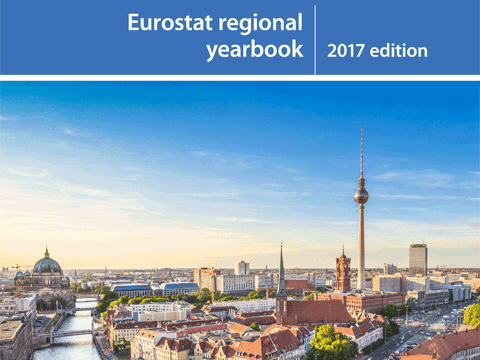 The 2017 edition of the Eurostat regional yearbook provides a taste of the wide range of regional statistics available for the 276 NUTS level 2 regions (or even 1 342 NUTS level 3 regions for some indicators) of the 28 Member States of the EU as well as, when available, in EFTA and candidate countries.
The publication opens with an overview of regional policies in the EU and European Commission priorities at subnational level. Then follows four chapters on people: 'Population', 'Health', 'Education and training', as well as the 'Labour market'. They include, among others, information on the median age of the population in your region, on health determinants (such as obesity rates or alcohol consumption) by degree of urbanisation, on the gender gap for early leavers from education and training, or on mean annual earnings. You may discover that the Spanish region of Comunidad de Madrid records the highest life expectancy at birth, that Inner London – West in the United Kingdom has the largest share of people aged 30-34 with tertiary education, or that obesity is generally more frequent in rural areas of the EU than in cities.
Economic and business related statistics are covered in three chapters: 'Economy', 'Structural business statistics' and 'Research and innovation'. From these chapters, you will learn, for example, that Severozapaden in Bulgaria is the most agriculture-oriented area of the EU, while Groningen in the Netherlands is the most industry-oriented. You will discover which EU regions have the highest shares of high-growth enterprises within the business economy and which ones have the highest share of human resources in science and technology (HRST).
The publication also presents regional data for specific sectors and economic activities: 'Digital economy and society', 'Tourism', 'Transport' and 'Agriculture'. You can see that the capital city regions of Copenhagen in Denmark and Stockholm in Sweden record the largest proportion of individuals participating in social networks. These chapters also reveal that that the regions of Centre and Bretagne, both in France, are the top EU regions for the production of cereals and the production of cows' milk respectively, while Cataluña in Spain records the highest number of pigs. You will also get, amongst others, facts and figures about tourism in coastal and non-coastal areas as well as a map on nine planned transport corridors in the Trans-European Transport Network (TEN-T).
Finally, the publication closes with two new focus chapters. One on 'Cities', focusing on population, transport and the environment, and another on 'Rural areas', which displays specific data on poverty and social exclusion, housing, health, education, the labour market and the digital society and economy. Did you know, for instance, that the risk of poverty or social exclusion is more of a rural phenomenon in the eastern, southern and Baltic Member States, while it affects mainly the urban population in the western and northern Member States of the EU?