Reach potential investors : The European Investment Project Portal
22/05/2017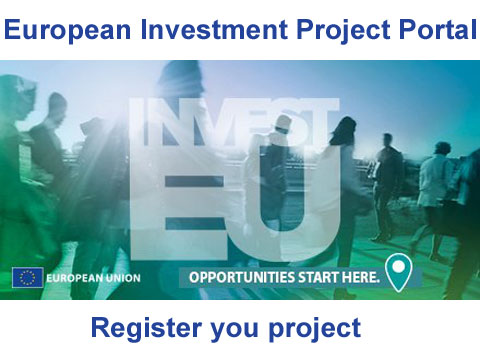 The European Investment Project Portal (EIPP) is a web portal enabling EU based project promoters – public or private – to reach potential investors worldwide.
It is designed in response to investors' desire to see more potential EU investment opportunities
in one central information platform. It offers advanced search and filtering criteria, making it
easy for investors to find projects according to their own preferences.
The Portal will boost the visibility of EU-based projects to a large network of international
investors, by presenting projects in a structured and harmonised format.
To be admitted for publication on the Portal, a project must:
• Have a total cost of at least EUR 1 million,
• Be in one of the pre-determined high economicvalue-added sectors,
• Be expected to start within three years of submission (or shall have started already),
• Be promoted by a public or private legal entity established in an EU Member State,
• Be compatible with all applicable EU and national laws.
You can submit your investment project by simply visiting ec.europa.eu/eipp and
following the 'Add your project' link and instructions.
On Tuesday 30 May in Brussels, the Committee of the Regions organises a lunchtime briefing to present the latest version of the Portal and its new features for project promoters, with a particular focus on local and regional authorities. It will also showcase examples of how local and regional projects benefited from increased visibility thanks to the EIPP.