State of European Cities Report: Cities leading the way to a better future
20/10/2016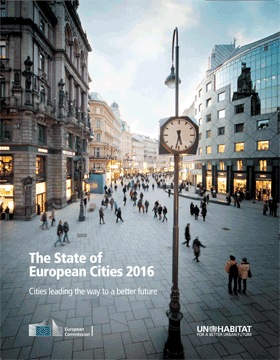 The new State of European Cities Report, produced jointly by the European Commission and UN-Habitat, argues that city authorities are at the forefront of societal change addressing both the new challenges and the new opportunities.
A concentration of innovation and high-growth firms has helped cities to create 9 million additional jobs between 2000 and 2013 while others areas did not add any jobs. Also GDP growth was 50% faster in cities than in other areas over this period. This performance, however, requires high-quality of research, good connections with the private sector and an excellent the business environment.
European cities attract new residents from in and outside of the EU. They come looking for a better education, a better job and a higher quality of life. Integrating these newcomers requires action on many fronts: building more housing, expanding public services, linking training to job opportunities and combatting discrimination.
Cites by their very nature make it easier to walk, cycle or take public transport. More and more cities have signed up to reducing their greenhouse gas emissions and adapting to climate change. Achieving these reductions will require efforts to make buildings more energy efficient and make low-carbon modes safe, efficient and attractive.
Cities that operate at the metropolitan scale and have sufficient autonomy and resources can better exploit these urban advantages. But the policies of higher levels of government should also consider the unique roles of cities. To boost investments, Cohesion Policy will provide more than EUR 100 billion to projects on innovation in SMEs, social integration, low-carbon mobility and energy efficiency in EU cities.
The report has three objectives: (1) Support the Urban Agenda for the EU by assessing the performance of cities in the twelve priority themes. (2) Help the new global urban agenda by providing comparable information on all cities linked to the UN urban Sustainable Development Goal. (3) Encourage peer learning between cities inside and outside Europe.
The report was launched during the European Week of Regions and Cities and will be presented during the UN Habitat III conference in Quito.
More information: