Mapping regional energy interests for the smart specialisation platform on energy
05/07/2016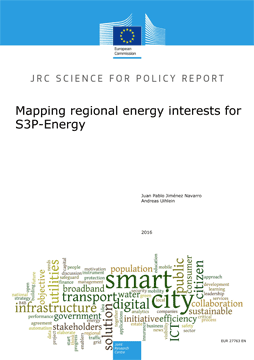 Energy efficiency, followed by smart grids, e-mobility and wind energy technologies are the key priorities put forward by regions and countries in the smart specialisation strategies in the area of energy, according to the new JRC report.
Through a series of illustrative maps, the report maps energy priorities, focusing on sustainable technologies, under the framework of the smart specialisation concept. It identifies groups of regions and countries with common energy technology interests based on a set of technologies included in the European Strategic Energy Technology Plan (SET-Plan). These common priorities can help regions develop potential cooperation as well as help policy makers define actions plans and maximise the impact of available resources.
Mapping regional energy interests
In terms of share of energy technology interest at national and regional level, energy efficiency was a priority in 23% of strategies, smart grids in 15%, electric vehicles in 13%, wind energy technologies and bioenergy in 9% of the strategies. On the other end of the scale, there was lack of interest in developing carbon capture utilisation or storage technologies. This can be explained by still developing associated technologies.
The analysis showed that only wind (off-shore installations) and ocean energy are geographically constrained to regions along the European Atlantic Arc. Other energy interests, such as investments and development of energy efficiency, smart grids or electric vehicles, are distributed across Europe, since there are no limiting conditions for their deployment.
The scientists also concluded that there was no significant correlation between economic indicators, such as GDP and the number of energy technologies a region or country is interested in. Since energy is an important economic driver this is slightly surprising as the opposite trend was expected. Also, energy costs did not determine the selection of specific technologies by the regions.
More Information