Improving efficiency and regularity of public contracts - 17 projects selected to pilot the Integrity Pacts
17/06/2016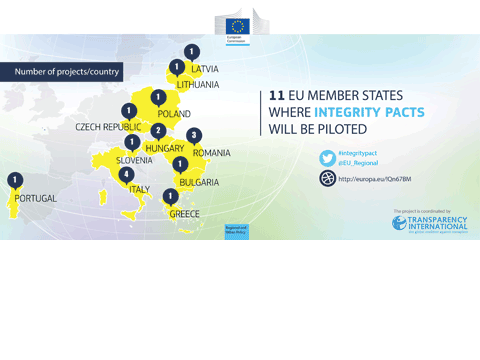 17 EU-funded projects will pilot Integrity Pacts - an innovative tool of ensuring more transparency, accountability and efficiency in public contracts co-financed by the European Structural and Investment Funds in the EU. They are part of a joint initiative by the European Commission and Transparency International "Integrity Pacts- Civil control mechanisms for safeguarding EU funds " and were selected following a call for expression of interest where the projects were submitted by managing authorities and beneficiaries, while civil society organisations were applying to act as monitors thus playing a valuable role in prevention of corruption and dissemination of good practices. The partners involved in the 17 projects gathered today in Brussels at a launch event.
Thanks to the great interest and participation, the selection resulted in an excellent mix of projects from different sectors (transport, administrative capacity and institutional building, culture, monitoring, environment, energy, education, research and development, integrated territorial investment and health care) in 11 Member States (Bulgaria, Czech Republic, Greece, Hungary, Lithuania, Latvia, Slovenia, Portugal, Romania, Italy and Poland). The total amount invested in those projects exceeds EUR 920 million.
The European Commission supports "Integrity Pacts – Civil Control Mechanism for Safeguarding EU Funds" with a budget of over EUR 7.2 million. This pilot phase will run for four years. The Transparency International Secretariat will ensure overall coordination of the project. It will coordinate 15 Civil Society Organisations (CSO's) which will monitor the IP and carry out quality assurance of project implementation at all levels, promotion and dissemination of the project results, necessary training and capacity building, capturing and dissemination of impact, lessons learnt and best practices.
More Information